One of the greatest feelings in the world is when a strong ray of sunshine hits your face on that first hot summer day and infuses that Vitamin D into your skin. In Toronto, we don't have the luxury of enjoying summer year-round. Yet most of us still seek that healthy summertime glow. Over the years we've been bombarded with messaging about how unhealthy it is to get our dose of sunshine from indoor tanning beds. We are now faced with a conundrum. Do we burn our skin to a crisp in those apparently unhealthy UV machines, stay pale for the winter, or try spray tanning to make up for the lack of glow?
The application of spray tanning has blown up in Toronto with salons and mobile spray tanners offering more "solutions" than we've ever seen before. We spoke with local spray tan specialist Jade Eccles of Blade Beauty Boutique to get some of our spray tan questions answered. Here's what she had to say:
What is a spray tan?
Spray tanning is the process of airbrushing a solution containing DHA onto your skin to achieve an immediate, UV free glow. The most effective sunless tanning products contain dihydroxyacetone (DHA) as the active ingredient. DHA is a colourless chemical derived from glycerine that interacts with the amino acids in dead skin cells to produce a brown colour change. Added bronzer to the solution is what gives you the immediate glow. DHA takes 6-8 hours to develop.
What are some benefits to choosing a spray tan over tanning beds?
Number one is health. Spray tanning has zero UV exposure. Prolonged UV exposure, from the sun or tanning beds, prematurely ages your skin, causing wrinkles, age spots, discolouration and even skin cancer. Another benefit for spray tanning is the instant colour you receive that leaves you feeling refreshed and glowing. 
Can you find vitamins or minerals in the spray solutions?
Spray tan solution contains grape seed extract to naturally boost collagen production, green tea extract to reduce stress on the skin, and ginger root extract to increase circulation. Mostly all solutions are gluten, paraben, sulphate & cruelty free.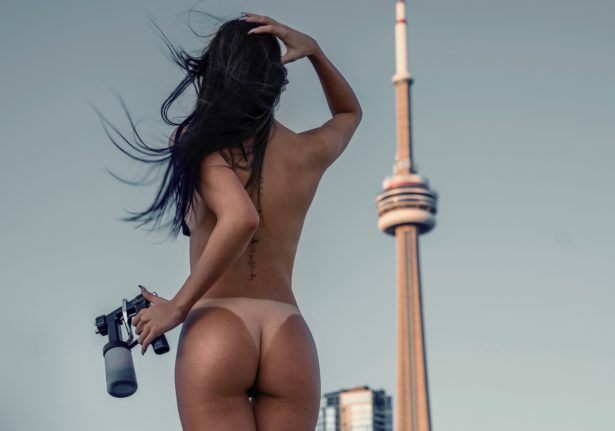 How long does a spray tan last?
An average spray tan takes 6-8 hours to develop and lasts anywhere between 4-7 days. The better the maintenance, the better the results. Someone who moisturizes regularly and stays away from swimming pools, saunas or heavy gym sessions, will get a longer lasting result.
What is the average cost for a spray tan?
Spray tans cost anywhere from $50 to upwards of $120 depending on your desired results. The spray tan world has come so far from that "fake orange" tan. For example, Blade Beauty Boutique provides speciality tans such as:
$ One Hour Solutions: to develop your tan in rapid time
$$ PH Balancing & Hydrating Add-ons: to optimize your glow as well as tan extenders for longer lasting results
$$$ Body & Face Contouring: to get those chiselled abs and lifted booty and sleek cheeks you've always wanted
Are there different levels of tan you can achieve with a spray?
Every clients' undertone should be assessed to achieve their own personalized optimum glow. A fair person would receive a solution that is completely different from someone with olive skin. There is a wide range of solutions to make clients look your best and optimize their own personal spray tan results.
How do you protect yourself from a bad spray tan experience?
I would always recommend checking out their salon. If you're walking into a dirty salon there's a big tell this artist doesn't take pride in their work. Spray tan solution should be kept in a cool, dark place to preserve the DHA in each solution. If there isn't a fridge, the solution can expire once opened. Mobile tanning? Check if their tent is clean and how they transport their equipment. If you receive a bad spray tan, don't stress. There are spray tan removers alongside exfoliating mitts that will help speed up the shedding process of your dead skin cells.
RELATED: Self-Tanning Tips
There you have it. With local spray tan shops and mobile spray tan businesses popping up all over the city, it's important to stay educated on their cleanliness standards, what type of solutions they are using, and how long their application will last. Now, let's get glowing!
Follow Blade Beauty Boutique and book directly via their Instagram here