DivaGirl Bachelorette: Marcella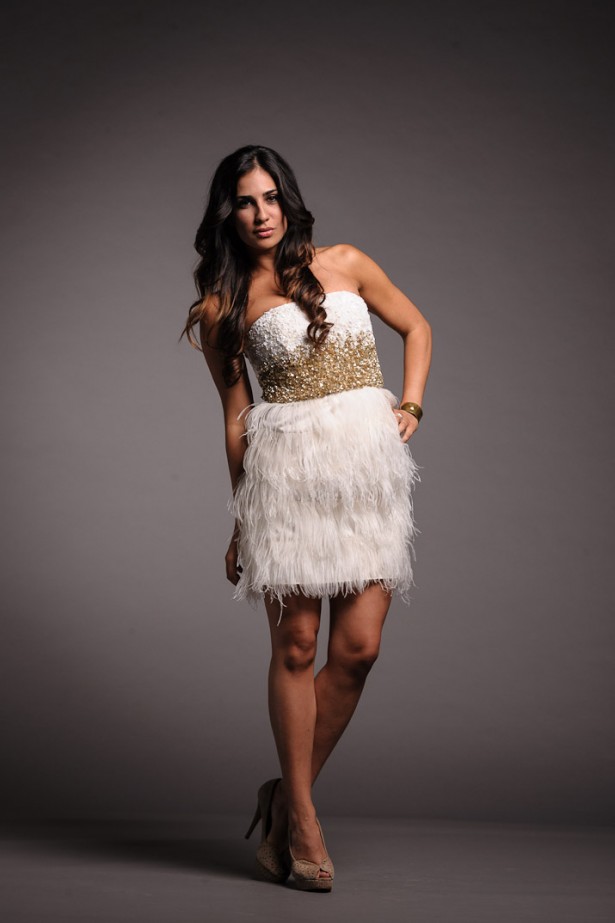 Badgley Mischka Ostrich Feather Dress, Rental $175, Retail $795
Marcella is a creative event/program management professional with experience in communications, event planning and program management activities. Networking is her forte as relationship building is the key to success. With her work experience, she considers herself a "corporate shtick" only half of the time.
Being quite the philanthropist, Marcella's involvement in community outreach is something she feels strongly about. Giving back and public speaking is something she takes part in regularly.
Maintaining a healthy lifestyle by teaching and partaking in fitness are very important to her while on the creative front she dabbles in expressing her thoughts through her personal Blog and bracelet creations. http://monamimarcella.blogspot.ca/
Fashion is something she takes seriously.   A polished look always draws in the right attention with a touch of  "je ne sais quoi".  Marcella would have to say her fashion style is "Classic Chic" with a touch of elegance and distinction. Her previous on camera experience as a host personality along with small commercial roles have helped build her comical and witty side that she is known for.
Marcella loves fashion, fitness, a healthy lifestyle, eating out at "tre-fab" restaurants and attending the must soirée from time to time. You can call her "The Lifestyle Architect".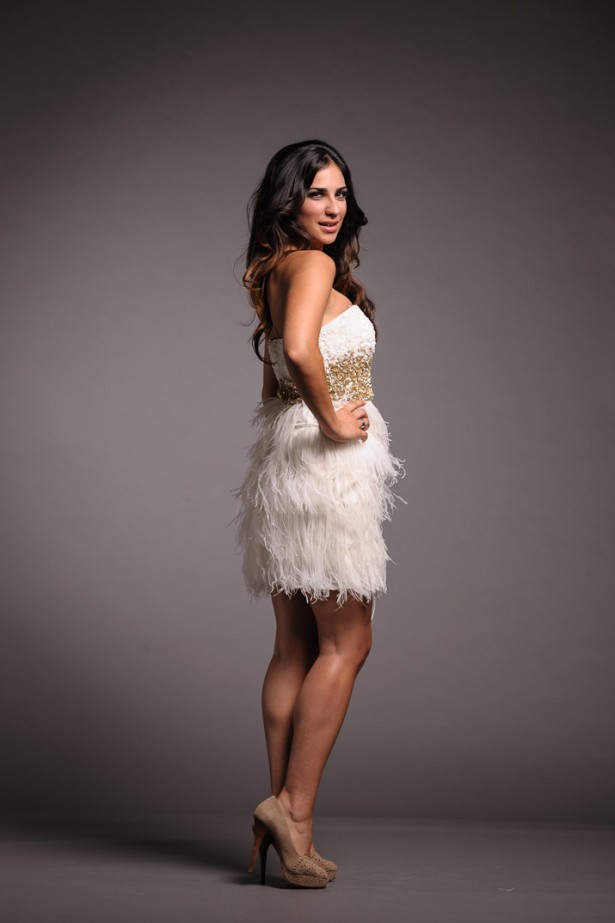 Badgley Mischka Ostrich Feather Dress, Rental $175, Retail $795
Occupation: Life Style Architect
Things I'm passionate about: Giving back to the community, charity involvement and be true to others around you.  Dancing – true form of expression
My ideal first date would be:  to be part of something exciting that is special to the person I am on a date with.  It could from a look out point on the lake to the person's fav go to ice cream spot. Keep it real and personal, no need to fly me on a jet on date one 😉
People say that I am: A Fashionista
My ideal partner is: a man that is confident, a go-getter, funny and a positive thinker.  Someone that is my bestest friend eva!
Dating deal breakers: If a guy swivels  in his chair; this is not my 5th birthday party at McDonald's
I'm not bragging but: I am the jack of all trades and master of some 😉
A talent that may surprise you: I am like a chameleon, no lie.  There is nothing I can't do that I have not put my mind to.  Okay so NO to sky diving.
Three artists you'll find on my iPod: John Legend, Florence and the Machine and The XX
My dream vacation: Would be somewhere hot and secluded , alcohol in hand with daily massages, which is a must
On weekends you'll find me: At brunch with my ladies, snuggled reading the paper, going for a jog and out for dinner in the evening – all in the same day!
What I put on my burger: Everything except onions, can't have bad breath now
I was most impressed on a date when he: Opens the car door for me, reminds me of  "A Bronx Tale" every time. I think its romantic, cute and just the right amount of cheese with a gentleman touch
In high school I was: Focused on my school with a small emphasis on partying.  Its funny what I got voted as in the year book my last year, but I don't think I should share
My guilty indulgence is:  Chocolate everything, seriously
In my past life I was: Cleopatra
In my next life I'll be: A better version of myself, even if I come back a wallflower
If my life were a genre of movie it would be: Seriocomedy
The actor that should play my life story is: Sofia Vergara; someone funny, dramatic and a looker 😉
Favourite ice cream flavour: All the Ben and Jerry's I can get my hands on
To relieve stress I: Go for a massage or a for a run by the lake
If I played hooky I'd: Go to the beach for sure!
If I found a genie in a bottle my three wishes would be: Bring happiness to those that are in need of it, take all my "besties" on a group amazing vacation once a year and wish that every child have an amazing, fulfilling and loving childhood.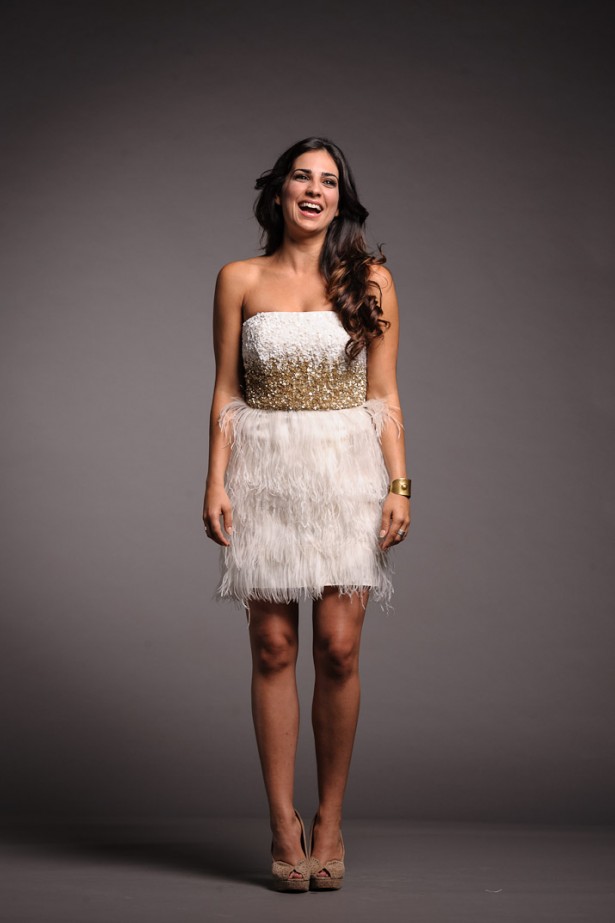 Badgley Mischka Ostrich Feather Dress, Rental $175, Retail $795
Want to suggest or even be one of "Toronto's Most Eligible Bachelors/Bachelorettes"? Email [email protected] with your nomination.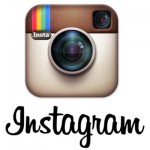 FOLLOW US ON INSTAGRAM TO SEE NEW BACHELORS AND BACHELORETTES WEEKLY! (torontosmosteligible)
Credits
Special sponsor: Divagirl-Inc
Dresses and styling provided by Rent frock Repeat, Toronto.
Photography: David Cyr at froghammer.com
: