Time to get to know someone? Not feeling so good about it? Invite them for a workout! Killing two birds with one stone here folks. Worst-case scenario, you're not into them and you got a good sweat on.
Lets face it, we are all quite busy now-a-days and taking the time to get to know people and spending quality time with our current relationships just somehow isn't as easy as it once was. I have mastered this challenge by inviting my social, sometimes even professional dates to workouts instead of another dinner date. The idea of sitting through another long awkward meal from appetizers to dessert can at times fell like a daunting task. The best part is feeling an overwhelming amount of accomplishment since I would have done the workout anyway and I have just avoided a diet sabotage.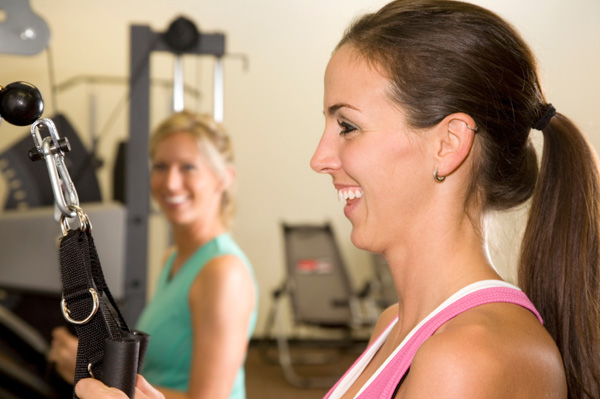 Here are my tips to get a good workout while spending quality time with your valentine or getting to know your next potential candidate.
1)   Choose an activity that is neutral to each others fitness levels
Inviting them to join you for a run while you train for your next marathon may not be a positive experience for him or her. Try something new instead, perhaps rock climbing or your gyms new fitness class (you know the one you would NEVER walk into on your own).
2)   Easy on the competition
Make sure this is a positive experience. There is no need to out bench-press your partner, don't show off. If you are more experienced in the weight room and your partner is a newbie avoid discouraging them by constantly being a 'know it all'.
3)   Switch it up
Suggest that this week you could show them your favourite workout or activity and ask them to take the lead next week. Always be open, try new things. The experience will make great conversation and create a great environment to bond or get to know each other.
4)   Relax and Enjoy
Don't think your partner is judging you or how you are doing something. Have fun with whatever it is you are doing. The more fun you have the more you are probably being the true you without the nervousness of a candlelight meal. So loosen up and have fun because this way you will probably be a lot more fun!
Sweating is lovely…BUT…lets be honest! Seeing someone you are into hot and sweaty is just that much better. Next time you are thinking that you have no time or you're not quite sold on going go ahead and suggest they join you for a workout instead. Nothing to lose, other than maybe some extra pounds!