There seems to be a lot of confusion about coconut oil – is it a healthy fat or not?  How does it compare to other oils?  Why is it solid at room temperature?  And can it be used as lube in the bedroom?  This incredibly powerful oil is in fact one of the healthiest fats known to us.  By the end of this article, I'm pretty sure that you'll be running to your local health food store to pick up this antioxidant rich, medium-chain fatty acid.  It's definitely a winner in my home because of its multiple uses and health benefits, and I can't wait for it to be a winner in yours too.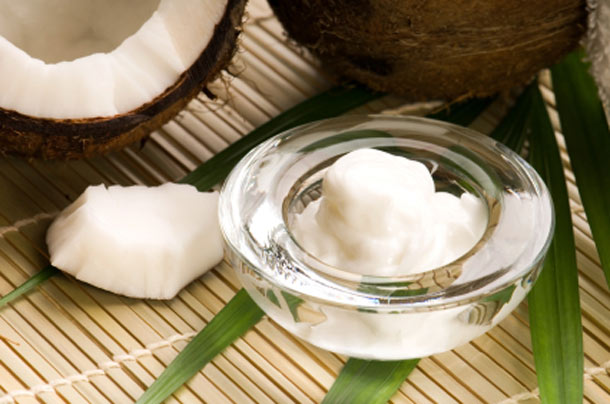 Coconut oil is a big hit in the natural health industry.  It's been recommended as a natural skin moisturizer, as part of many weight loss diets, and as a healthy oil to use for high-heat cooking.  It has gained popularity quite rapidly; however, there still exists quite a bit of confusion about its health benefits.  Although coconut oil is a saturated fat, it is in fact one of the healthiest fats in the world, improving cardiovascular health, body composition, immunity, and digestive functioning.
This tasty, creamy oil has a long list of health benefits.  Coconut oil speeds up metabolism, strengthens the immune system, boosts energy, improves digestion, lowers the risk of diabetes, reduces the risk of heart disease, and increases HDL cholesterol (the 'good' cholesterol).  I recommend having 1-3 tablespoons per day to my patients for maximum benefits.  You can try adding it to your morning smoothie or your favourite meal.  In order to avoid loose stools, start with 1 tablespoon per day, slowly increasing your intake over time.
Predominantly a medium-chain fatty acid (MCFA), coconut oil is high in lauric acid.  When lauric acid is in the body, it gets converted to monolaurin, which carries powerful anti-viral, anti-bacterial, and anti-fungal properties.  The other main food source of lauric acid is human breast milk.  Now I don't know about you, but I'd say that coconut oil is not only tastier, but it's definitely a lot easier to access than human breast milk.  Think about all of the benefits that babies receive from their mother's milk – wouldn't you like to receive some of those immune boosting benefits?
Researchers recognize that coconut oil has the ability to boost immunity and prevent transmission of disease.  They are currently studying the effects of lauric acid against HIV/AIDS, along with other sexually transmitted diseases, including Chlamydia and herpes.  Did you know that many commercial lubricants can negatively affect your protection against sexually transmitted diseases?  Although lube is meant to reduce friction and prevent condoms from breaking, on the downside they can impact your body's own defenses by altering your natural environment.  One study showed using a lubricant was associated with a more than threefold greater risk of acquiring a sexually transmitted infection.  Avoid creating a breeding ground for yeast and other pathogens by switching from commercial lubricants, which can be toxic to cells and tissues, to all natural coconut oil.
This weekend, get sensual with your partner as you both enjoy a coconut oil massage and replace your toxic lube with this nourishing, natural option.  Do you need more reasons to go out and buy this incredible oil?  I think I've given you more than enough – it not only adds flavor to your favourite dishes, deep conditions your hair right down to the shaft, prevents premature aging, improves cardiovascular health, reduces body fat, and increases energy – it's probably the best organic lubricant for enhancing sexual pleasure and protecting your sexy parts from STD's.