The heart has long been a symbol of courage, passion and love. Similar to how the sun is the center of our solar system, in Chinese medicine the Heart is considered the center of our being. The importance of this organ system is equal to that of an emperor/empress who rules over her nation. A sign of a good leader is one you barely notice because everything operates as it should.
In Taoism we call this Wu Wei, the art of doing without doing. When our actions are effortlessly in line with the ebb and flow of life. You know that place we hit when we find our groove and when things around us flow with ease.  It is the path between effort and surrender. The middle path. The Tao.
It is easy to get lost when things become overwhelmingly difficult and part of our practice is to listen carefully to the early warning signs our body communicates when we are veering off our mid-line. Each organ system, according to Chinese Medicine has a particular emotional affinity attributed to it but all the emotions go through the Heart. The emotion related to the Heart is joy which comes from too much excitement or stimulation. For thousands of years the Heart has been considered the seat of our emotional milieu. When our mind, heart and feet are moving in opposite directions this creates internal conflict. When our Heart is agitated we may experience irregular heartbeats, excessive dreaming, difficulty sleeping, mental restlessness, lack of enthusiasm, poor long term memory, palpitations and despair. We lose our joie de vivre.  Life will always be full of challenges and triumphs and wisdom comes when we can decipher when it is time to push ourselves and time to rest. 
When we can no longer open our arms to embrace what our life has to offer we can work with the Pericardium meridian which travels down the middle of the forearm into the palm of the hand. The Pericardium is the organ that protects the heart. As it turns out our hands house some very powerful acupressure points.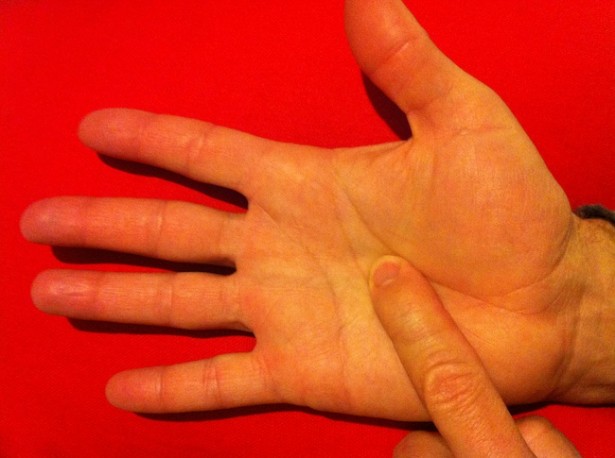 PC 8 'Palace of weariness'
Begin with the left side. Massage down the center of your forearm making your way toward the center of your palm. Find a place of tenderness or tension at the center of your palm and spend some time working it out. This point has a direct effect at releasing tension at the center of the chest related to anxiety and can with stress and fatigue.