By: Theo Wolski
1. "Always try to see the good in people."
Once your eyes adjust to the visual brilliancy of Baz Lurhmann's 3D interpretation of this literary classic you will hear the narrator, Nick Caraway's, voice boom through the sound system during the first scenes saying that his father's best advice was to , "Always see the good in people." Nick's humane perceptions and ability to see within each of the screenplay's characters, rather than being dazzled by their without, is what sets him apart from the rest of The Great Gatsby's jaded and selfish characters. In my opinion seeing the good in people means understanding their short comings and accepting them for their triumphs instead, it means seeing the positive side in all relationships, and appreciating people for their hearts instead of their accomplishments or their pedigree.
2. With some serious elbow grease – you can change your fate
Gatsby refused to allow his breeding and circumstances define his future. Though he was born into a penniless family, during a time of economic unrest in North America, he did not take for granted the potential and opportunities that presented themselves to him after the boom happened post WWI America. He truly believed in the power of his own decisions and worked tirelessly to attain his dream of a better financial future for himself, and his love interest. In the novel when Daisy says, "Rich girls don't marry poor boys Jay Gatsby", he does not allow this obstacle to defeat him. His determination and drive lead him to the circumstances that may just have changed his fate had Fitzgerald not decided to disappoint us all with his choice of ending. We can all take a page from James Gats' book and strive a little harder to achieve our goals.
3. Life was made for celebrating
Jay Gatsby throws over-the-top, incredible, must attend parties every Saturday night. His guests come with a single goal in mind; to celebrate life! They aren't there out of duty to the host, since barely any of the attendees have even met Gatsby, and they certainly are not there to sit back and relax the night away on the water's edge. The parties exist, quite simply, to make the most out of every moment and enjoy life to its fullest. (And, admittedly to attract the attention of the woman who's green dock light haunts Gatsby's existence.) But, you don't have to live in a gothic mansion like Jay Gatsby to throw a LIFE IS BEAUTIFUL PARTY. Celebrating life and every moment can help you feel more abundant and happy so go ahead, do it, indulge in the pleasures of enjoying your own life for Pete sakes!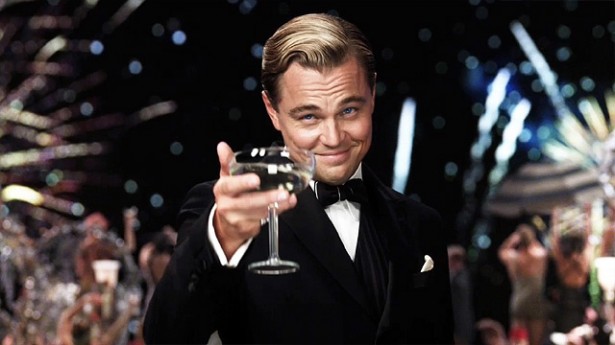 4. Unfortunately, money can't buy love or happiness
Gatsby's determination and drive lead him to the brink of his dream. He is able to acquire the extravagant lifestyle and throw the wild parties that he believes he needs to impress his heart's desire, Daisy. He sells his soul, and criminal record, to the mob in order to secure the life of luxury that he believes will lead him to his "happy ending". Unfortunately for Jay Gatsby, money can't buy him love, and the brink is the closest he ever gets to true happiness. "The Great Gatsby", in my opinion, is a cautionary tale that outlines the downside of decadence. Daisy, Tom, and Jay are all extraordinarily affluent, but their hearts remain poor. Their selfishness reigns over their beautiful homes, mirage-like marriages, and adulterous activities leaving each of them empty in one way or another. What really matters in life is the relationships we have, the contributions we make to this world and the love that we are lucky enough to give and receive.
5. It's not just in his kiss…
One of my favorite quotes from The Great Gatsby comes again from Nick Caraway when explains how he is able to understand the depth of love that Gatsby has for Daisy. He says, "The way he looked at her is the way that all girls want to be looked at." If the eyes are the window to the soul love must then logically flow from the eyes. It is my opinion that all women want to be desired both for their inward and outward beauty. Men should keep in mind that there is a very satisfying sensuality that comes from real and unwavering eye contact with your partner. Knowing that we captivate you increases our confidence in the relationship and can often lead to furthered intimacy and passion.
6. "My life old sport, it has to keep going."
In other words, you've got to keep on keepin' on. Experiencing defeat in romance, your professional life, friendship, hobbies, or academics is never an easy pill to swallow. In my experience however, there is always a method to the universe's madness. When loss is experienced, scars are made, then joy is re-created, success is achieved, and like some sort of sick joke it eventually all happens over again. It is how we surmount life's obstacles that set the proverbial winners apart from the losers. So keep on going, don't give up – let life's cycles rock you but don't let them break you.
Theo Wolski, Senior Marketing & PR Specialist for Eligible, brings her own expressive flare to Eligible Magazine as its Assistant Editor. She has a degree in Communication Studies and Film Production from the University of Windsor, as well as a Graduate Diploma in Strategic Marketing from George Brown College. Theo loves all things communication and is happy to be able to work be working with Eligible Magazine. She is also a small business owner.  Operating TW Consulting, a personalized marketing boutique that caters to the needs of small and start-up businesses, has been her life long goal. To contact Theo please send your emails to [email protected].