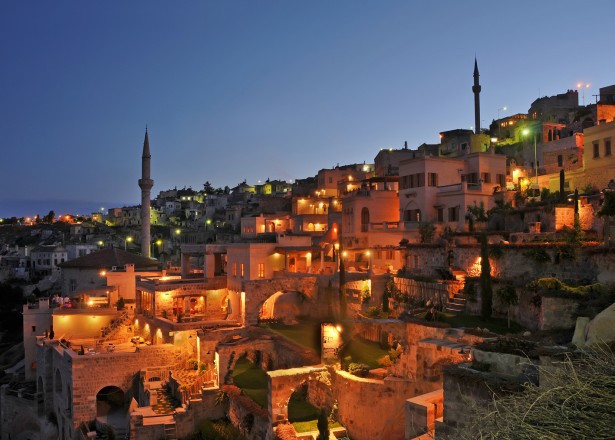 I am certain that at some point in your life you have heard, seen or read about the sights and sounds of Turkey. Whether you remember hearing about the complex Turkish history from your school years or you follow the news and have seen the recent events unfolding. Turkey is a country full of rich culture, history and people and it is certainly a destination not to be missed by the avid traveller. Regardless of what you have heard in the news, you would be hard pressed to find a country so full of warm and friendly people. I was lucky enough to travel around the country visiting numerous cities and towns along the way and throughout my entire journey I was amazed at how welcoming and helpful the locals were. This certainly adds an even greater appeal above and beyond the diverse and breathtaking landscape of the country. Although I could most likely write an entire novel on Turkey I would like to focus on the Cappadocia region for the purpose of this article. Throughout my extensive travel I have yet to see a region so visually unique as Cappadocia and I highly doubt there is any other place that resembles the surreal looking fairy chimneys that this region is known for.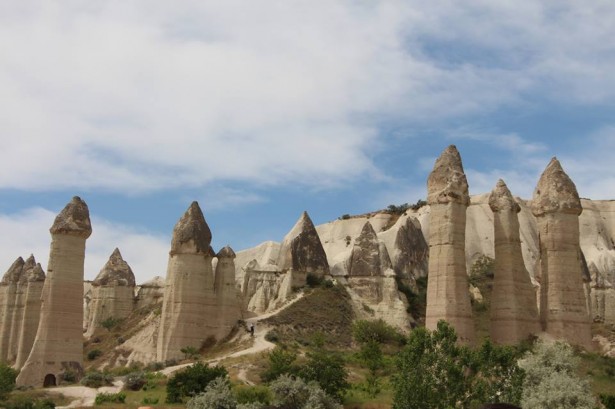 Cappadocia is a historical area in central Anatolia that is characterized by exceptional natural wonders and a striking lunar-like landscape. There are two airports in the region of Cappadocia, Kayseri Erkilet Airport or Nevsehir Kapadokya Airport. You can also choose to fly into the Capital of Turkey, which contrary to popular belief is Ankara and not Istanbul, spend some time in the city and then drive or take a small internal flight to Cappadocia. If you are flying you should be able to make the entire journey from Istanbul to your hotel in Cappadocia in approximately 4 to 5 hours if everything goes well. Turkish domestic flights are often much more expensive if purchased outside of Turkey, so you should consider having a good Turkish travel agent make your internal flight reservations if at all possible. Alternately you can choose to take a night bus from Istanbul which is usually the cheapest way to go, about 50TL, but it is a long drive at 730 km and around 10 to 12 hours. This could be a great option if you are someone who can sleep on buses and there are several companies that run a night time route.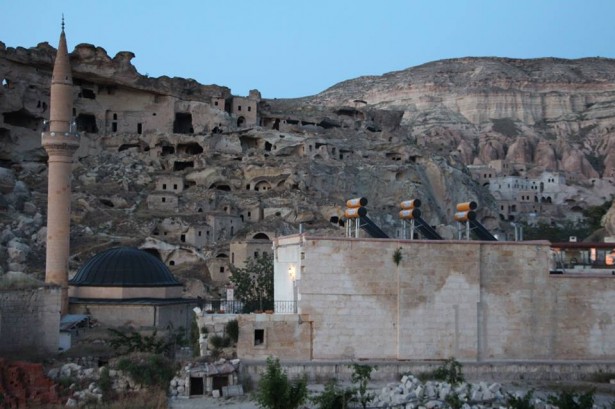 Some of the more popular towns to stay in while you are visiting are Goreme, Urgup, Kayseri and Avanos with varying activities and sights for each. I recommend staying at The Sofa hotel which is located in Avanos and is a locally owned boutique hotel that is an amalgamation of 15 old houses that have been opened to one another and restored in the old style. Every room is different from the next and some rooms are even cave rooms built directly into the rock face. The hotel is a series of hallways and stone stairwells that wind throughout the property leading its guests to different terraces and rooms. The walls are dotted with local artifacts and trinkets from the area and every so often the hallway will open up onto a small cavernous alcove lined with old books, furniture or simply beautiful foliage. From the very moment that the front desk attendant hands you your room key which is attached to a piece of local Turkish marble, you can be certain that this hotel is one of a kind.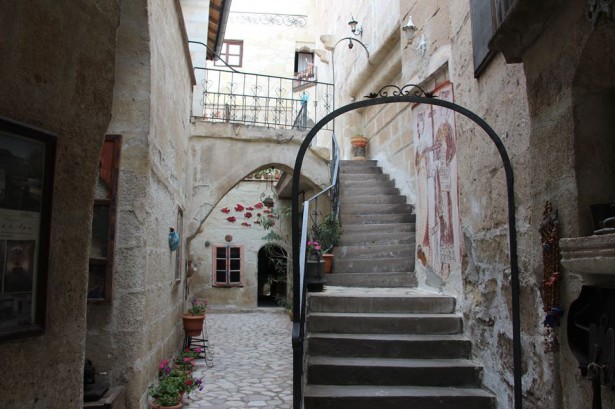 Another selling point of this area is the endless amount of activities and cultural experiences that are available. There is a traditional Turkish Hammam, a Turkish bath, that is a must do before you leave the country. Hammam's are not for the modest and I implore you to cast aside your feelings of self consciousness and allow yourself to feel relaxed, refreshed and energized while partaking in this long-standing Turkish tradition. If you are in search of further cultural delight then you can try the Goreme open air museum or catch one of the whirling dervish festivals which are a sect of Islam taught to love everything. They are known as the Whirling Dervishes due to their famous practice of whirling which represents a mystical journey of man's spiritual ascent through mind and love to the "Perfect". Turning towards the truth, the Dervish grows through love, deserts his ego, finds the truth, and arrives at the "Perfect". He then returns from this spiritual journey as a man who has reached maturity and a greater perfection, able to love and to be of service to the whole of creation. Cappadocia is also widely known as a world class hiking destination with numerous picturesque valleys that combine both natural and man made beauty. Rose Valley is known as one of the top places to hike but I also thoroughly enjoyed Love Valley as well. Each valley has well-worn paths but no fences so the only thing determining your direction is your sense of adventure and perhaps your next scheduled event. Each valley has breathtaking views and the iconic towering fairy chimneys that you are undoubtedly in search of, along with lush vegetation and varied wildlife. You will also find at least one Turk along the way offering shade, a place to rest and of course freshly squeezed orange and pomegranate juice among other things. The hiking trails allow you to go as hard or as light as you like and they are suitable for all fitness levels which makes it an accessible place for all. Be sure to also allocate time in order to visit some of the underground cities surrounding the area as it really gives you a better perspective on the history of the people of Anatolia and the methods they used to survive. As far as activities, I have saved the best suggestion for last in the hopes that you do not miss the opportunity to view this compelling landscape from the best vantage point; the sky. One of the top destinations worldwide to take a hot air balloon ride is in Cappadocia and I can assure you it is no coincidence. There is no other country that can offer you the magnificent views that you will uncover while safely floating 1000 meters above the ground in your colourful hot air balloon. If you are unsure of which company to choose then I highly recommend Voyager Balloons as not only was I thoroughly impressed with their skills and professionalism but they also have an impeccable flying record which should serve to put your mind at ease.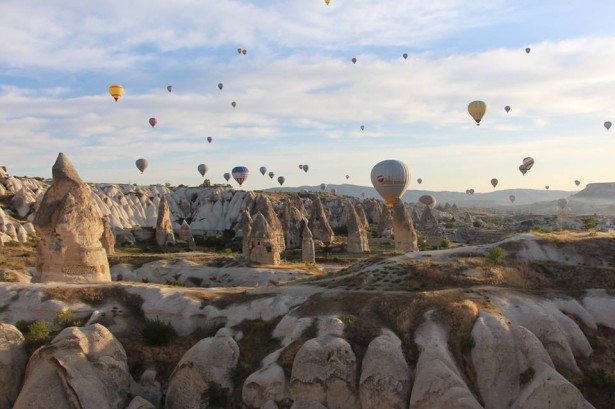 Above and beyond the endless amounts of activities to keep you busy, Cappadocia is also a region with a distinctive and impressive local cuisine waiting for you to savour. After a long day of hiking and sight seeing there are plenty of small, locally owned café's and restaurants in which to kick back, relax and enjoy a cold Efes. Whatever it is that brought you here, it is certain that you will never see another landscape that looks quite like Cappadocia.