If you have ever spent time in a small coastal surf town then you know just how relaxing and rewarding the experience can be. Some of my most fond travel memories come from finding unique hidden gems full of like minded individuals looking for zen. Sayulita in the state of Nayarit, Mexico struck a chord with me because of the relaxed vibe and the colourful little buildings serving up freshly made burritos and tacos accompanied by an ice cold Cerveza. Yes please!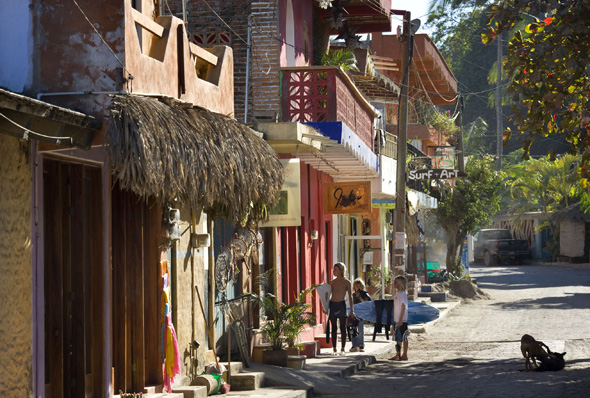 Something else that is appealing about Sayulita is that it is not very hard to find but has managed to retain it's authentic Mexican feel without becoming too touristy. It is hailed as an "off the beaten path" travel destination and is a mecca for surfers of all ages. I have spent a lot of time in Mexico in various areas but this particular town really stood out to me because of it's proximity to a large tourist destination, Puerto Vallarta, and the fact that it still offers up a cultural experience. Don't get me wrong, there are no shortage of foreigners here looking for the same thing that you are but the general feel of the town and it's visitors is one of detached relaxation. As I had mentioned getting there is fairly simple, you will need to fly into the Puerto Vallarta international airport which is about 25 miles North of Sayulita. Your best bet is to rent a car and drive down as then you will have access to a vehicle to further explore the surrounding areas. As I like to say, you never know what you can find until you start to look. There is also taxi service and a regular bus that runs from the Puerto Vallarta airport directly into the the town that costs approximately 25 pesos so if you are feeling reluctant to drive in a foreign country there are certainly other options.
One of the most popular options for accommodation in Sayulita is rental properties or condos. You can rent one bedroom right up to five or six bedroom properties directly from the owner by doing a little bit of online research prior to your trip. Most properties are beach front and also allow access to a private pool so you will have no shortage of options to cool down after spending the day enjoying the heat of Mexico. Having a kitchen at your disposal will also permit you to take advantage of the small markets and vendors dotting the vibrant streets selling fresh local ingredients for you to sink your teeth into. Having an eclectic mix of restaurants, bars and nightclubs, Sayulita also offers up a delectable feast for both your palate and for your inner party animal. If your preference is a full service hotel, where your most difficult decision is what to order from the room service menu then not to fear, this small coastal town has a bit of everything from budget accommodation to luxury beachfront cabanas.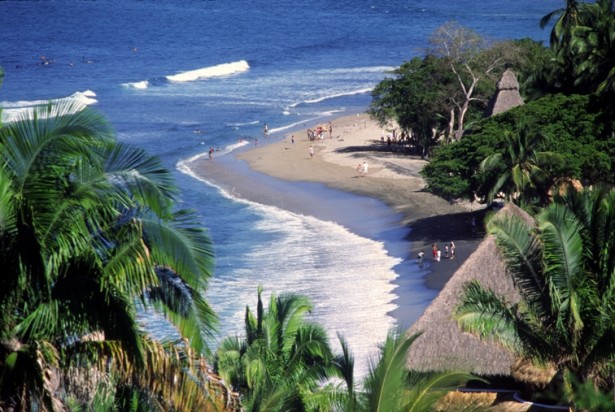 Activities are plentiful in this area and aside from the obvious choice of trying your hand at surfing, you can also find world class diving, fishing and snorkeling. For the more active traveller there are numerous golf and tennis courses and breathtaking hiking trails that wind along the coastline giving you a birds eye view of the sparkling Pacific Ocean. When you are ready to unwind you can wander along the streets visiting the local shops and art galleries or make a reservation at one of the nearby spa facilities. Mexico has long been one of my most favourite culinary destinations and Sayulita did not disappoint. The dining experiences and restaurants are almost limitless. If you count taco/tortilla stands and small "hole-in-the-wall" cafes, Sayulita offers over 100 locations to grab a bite to eat. Award-winning fine dining restaurants will tempt you with their lavish menus while taco stands will easily fill you up for only a few pesos.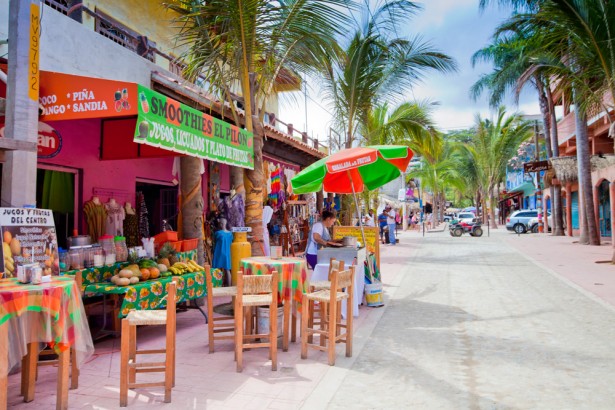 As I has mentioned before, I have had the pleasure of spending a significant amount of time throughout Mexico and it always pains me when I hear people discredit the country due to news reports and misguided safety concerns. Recent news reports regarding violence in Mexican border towns should not confuse vacation-goers about the easy-going peaceful founding families of Sayulita and other rural areas. Mexico is a massive country and there are certainly some cities that are safer then others but at no point during any of my time spent there did I feel unsafe or threatened and contrary to popular belief, some of the friendliest people I have met during my journeys have been in this particular country. Use common sense when travelling to any foreign country and ask the experts. If you have never travelled to Mexico but know someone who has, ask them for their thoughts and advice. Try and find someone who has spent some time outside of the resorts as sitting at the pool bar with boatloads of other tourists does not classify as an authentic Mexican experience. Like I said finding Sayulita is the easy part, wanting to leave is another story.
Join me next month as I travel through Ecuador and the Galapagos Islands.