The holiday season has arrived and you're currently riding solo in the BIG city. Between couples smooching at holiday parties, constant questions about your love life, and midnight kisses on New Years Eve, you may just feel like hibernating during this time. So how can you get through the holidays without potentially feeling depressed and alone?
It may be easier then you think…
Leave the past behind. Remove past memories of Christmas's with ex-boyfriends/girlfriends and stay away from watching those overly sentimental movies that will leave you feeling even more depressed. Rather than focusing on other couple's bliss that surrounds you, shift the focus to you by creating a memorable holiday season by trying new things.
Create your own holiday traditions. Decorate the home with Christmas décor that gets you into the holiday spirit. Send out some Christmas cards to those from afar to let them know you are thinking of them. Venture out for some Christmas caroling if you love to sing. Holiday skating and sipping hot chocolate gets you out of the house and can also be a great opportunity to meet other singles.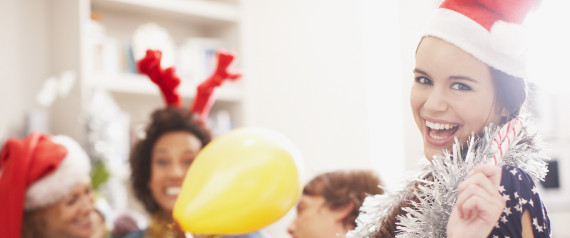 Host your own holiday party. Invite other singles to a potluck dinner party. Create a festive drink menu, hire entertainment, and have a great night amongst friends & singles. You will feel great bringing everyone together and may just land a date yourself!
Party hop to festive events and FLIRT your butt off. Scope out the single guys/girls in the room and turn on your charm. Make sure to look your best and be the belle of the ball. If you're open to meeting new people and willing to seize the moment, these holiday parties can be a lot more fun and full of opportunities.
Pamper yourself. Use the the money you would have used on a partner's gift to purchase something you have always wanted. Start a new workout routine, plan a spa day, buy some new furniture for the home, or whatever tickles your fancy. You deserve it. You worked hard all year and even had to put up with those not so great dates.
Leave the city. Avoid the hustle and bustle by going somewhere with a fun friend. Splurge on a cruise or a ski trip, or venture to a fun place like Las Vegas for New Year's Eve. That way you have something to look forward to throughout the season.
Give back. Volunteer your time at a local charity, find a homeless shelter or food bank that is serving meals to the less fortunate and jump in. Christmas is a time to be grateful, so share what you are thankful for by giving to those in need.
Now that you have some new ideas on how you can create a memorable holiday season being a single belle in the city, I hope you are left feeling motivated to plan your holiday adventure. It's time to execute!
With a new year just around the corner, reflect on what you have learned from past relationships, continue to love the person you are, set new goals for yourself, and always remain grateful for your current life situation even if its just YOU.