Rum and Eggnog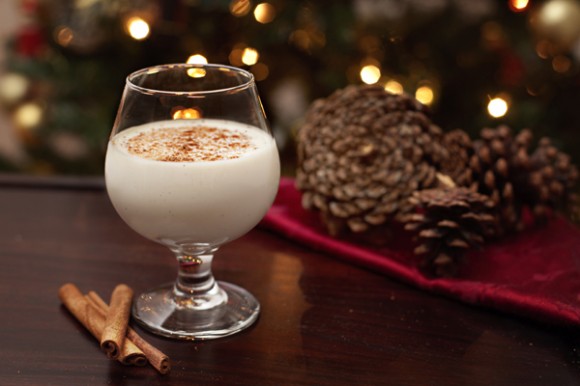 The quintessential holiday drink dating back to medieval times, this one's always sure to please. Put a shot of spiced rum (1 ounce or more, depending on taste), or some bourbon for a modern twist, in the bottom of the glass. Fill the rest with your favourite egg nog, garnish with cinnamon, nutmeg, and/or a cinnamon stick. Was that the doorbell? Merry Christmas!
The Candy Cane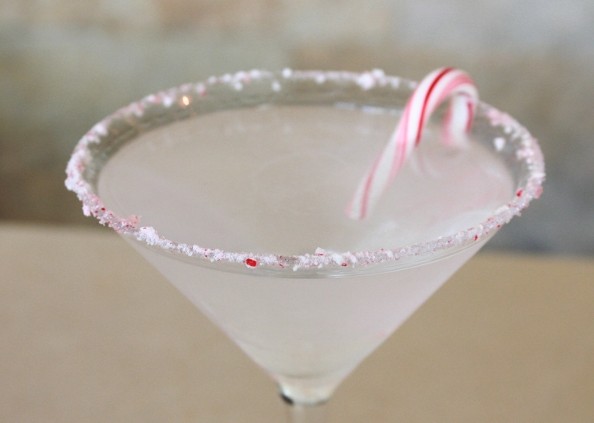 Berry flavoured vodka anchors this tasty concoction named after those sugary holiday treats you enjoyed as a youngster. Mix the berry vodka (3/4 ounce) with white creme de cacao (3/4 ounce), peppermint schnapps (3/4 ounce), grenadine (1/4 ounce) and ice. Shake well. Top it off with table cream and a splash of soda water in a glass rimmed with crushed peppermint candy. An ideal drink to share with friends and family around the Christmas tree. Let it snow!
The Christmas Cookie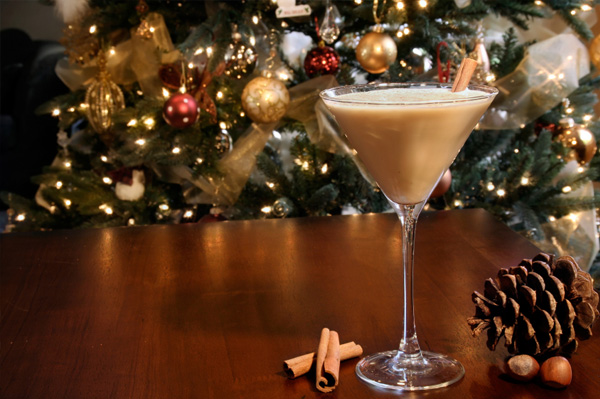 Though the name may evoke warm childhood memories, this one is strictly for the adults. The 3 ounces of alcohol in it have may have something to do with it. Pour equal parts Peppermint Schnapps, Kahlua, and Bailey's Irish Cream into a festive glass and lightly mix. This intoxicating bit of heaven provides an essential apertif to enjoy by the fire with your sweetheart. Seasons' Greetings!
Jingle Juice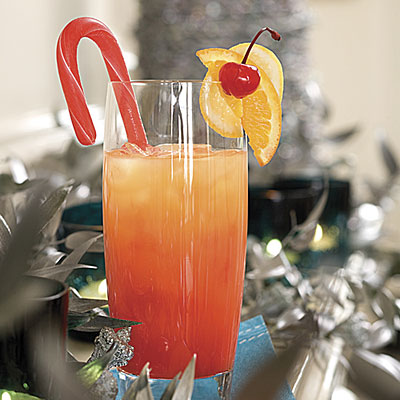 There's more than juice to be had in this one, and after having a few, you may be the only one in the room hearing those Christmas carols. Combine 5 cups orange juice, with a cup of vodka, 1/3 cup of orange liqueur, 1/4 cup of fresh lemon juice, 1/2 cup of maraschino cherry juice. Garnish with a candy cane, cherries, orange or lemon slices. Jingle All The Way!
Whispering Wreath
A twist on the traditional hot buttered rum that's been popular since the 17th century, this drink combines sugar (1 cup), fresh mint leaves (1/4 cup), fresh sage leaves (1/4 cup), water (4 cups), bitters (10 dashes), dark rum (1.5 cups) and butter (2 tablespoons).
Mix the sugar and herbs together until soft, then add the water and bitters. Simmer over medium high heat for 5 minutes. Add the rum and cook for 1 minute. Add butter and stir it in until it melts. Strain the resulting mixture into a pitcher and let stand for 10 minutes to allow it to mellow. Serve in cordial glasses, and garnish with a mint leaf. Tis' the season!