Reassuringly expensive, Stella Artois rings true among sophisticates. The ale requires a recipe of only four ingredients. That's 4.0—and one of them is water. Since 1926, the company brews their elite brand of pilsner in selective hotspots like say, Belgium and Hungary, while also supporting international film art: Cannes, Melbourne and the Sundance Festival are beneficiaries of Stella Artois sponsorship. And 2014 marks the anticipated American roll-out of Stella's sexy hard cider, Stella Artois Cidre.
I'll be honest: I'm not a beer drinker, I don't love hard liquor and I'm no fan of dark or pale lager. Despite all caveats, Stella Artois Cidre wins my vote, which feels (at least to me) like a pretty big deal. Since first sip at Park City's exclusive Stella Artois lounge, I'm smitten for life.
Brunching at the Stella Artois café, I order the fine golden nectar, only to have my request squelched by a waiter who informs me that due to festival space limitations, the cafe only stocks Stella's regular lager.
Wait. What?!
"Then just lemon water, an open-faced sourdough croquette and the apple, mint salad."
Lucky thing I wore boots or my socks would've knocked off. The food is phenomenal yet simple and our waiter works his way back over to our table and unexpectedly places a large shimmering goblet next to my plate.
"Look what I found for you."
I want to cry. Or hug him. I do both.
I've since copycatted two great Stella Artois Café recipes in my own humble adobe. No, I can't make Stella Artois Cidre, but like Cidre itself, the menu items are sophisticated and sexy, yet phenomenally simple—requiring very short prep time and a few key ingredients.
Serve both immediately
Apple mint salad (2 servings)
1 golden delicious apple
½ cup toasted walnuts (or pecans)
½ cup Parmesan cheese, shaved
½ cup chopped fresh mint
dressing:
1 lemon
½ cup olive oil
salt
pinch of sugar
Core and thinly slice apple.
Add dressing then toss in remaining ingredients but cheese and serve immediately with shaved cheese on top.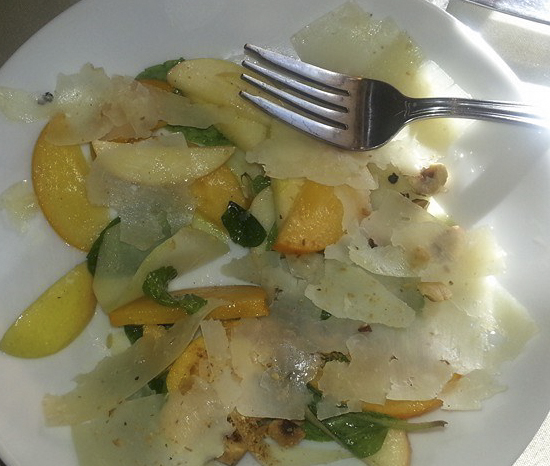 Open Faced Croquette
1 slice of sourdough bread
1 slice ham
1 slice Gruyere cheese
1 egg, pan fried to perfection
salt/pepper to taste
Preheat oven to 425 degrees. Butter a pan and place sourdough bread on sheet with ham and cheese in that order. Bake until the cheese is melted and the bread is crisp along the edges. Meanwhile, pan fry the egg and place it on top of the stacked bread. Salt and pepper to taste.
Contributed by Lori Vodi Rupard
Lorri is a creative writing graduate who resides near Salt Lake City, Utah what Lorri lacks in expertise she makes up for in sincerity. Her poetry, short stories and film reviews appear in the Montreal review, thegate.ca, kalon women, the black boot and pastiche magazine. She is the founder of saltmediallc.com