Oh Timmy, Timmy! Wherefore art thou Timmy? Deny thy Natalie a rose and refuse thy Rileigh a chance; I guess Timmy just wants a little Kaylynn and Dominique lip loving time.
Welcome back to another The Bachelor Canada episode ladies and gents! On this week's episode, our lovely Tim Warmels just wants to find a "true connection." Whatever that means. But Tim says he knew that by letting 4 ladies go last week he would be able to find his love this week in the Bahamas.
The first one-on-one date goes to Natalie. Yay Natalie! Your first one-on-one dance was just as awkward as your first attempted kiss in your photo shoot with Tim. But Timmy thinks you are an "educator and gorgeous," so hopefully those delicious daiquiris don't hit you too hard and you spark his interest. So far not so good. Actually it would probably be better if they did hit you a little hard. Lady needs to learn to r-e-l-a-x.
Anyone else curious to know how long the two of them sat there saying yep, yep and yep? Sorry Natalie, he's not feeling it (which is why he doesn't have a rose to give). Cue the tears and breakdown, and goodbye Natalie.
Up next we have the group date. Rileigh is excited to get naked with Tim, and isn't afraid to say it! Too bad you're not actually going on the date, oops. But let's take a moment to examine Lisa. Just a subtle reminder: You're on national television, and we see what you say and what you have to say doesn't match up with your actions. I spy a crazy alert…
But Tim is our optimistic one, and he's going to take the prior day with a grain of salt and spend time with his other beautiful ladies at Stuart Coves. Guess what ladies? You're swimming with the sharks! Oh Tim, what a hopeless romantic you are. Here's hoping you can keep one of your ladies alive.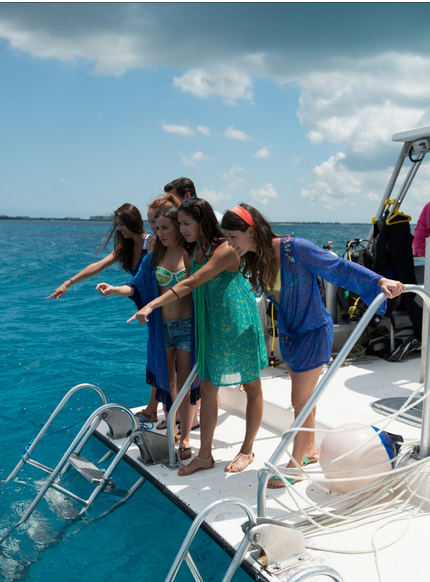 Tim has his big moment: he takes a moment to think about what it would be like with just April. Oh boy, big steps for Tim! I commend April for her bravery and willingness to take on the sharks. She definitely did better than I ever would. Feel free to ask me about my stingray experience, I have photo evidence (it's not good).
Tim and Dominique share a very intimate, passionate kiss. Lisa of course doesn't approve (seriously Lisa, get lost) but Tim definitely does. Cue Kaylynn bringing on another Tim lip locking session, alongside some awkward face stroking gestures. And then April appears with the best line of the episode: "I didn't think I'd find you guys here!" Best. Entrance. Ever. I like her even more.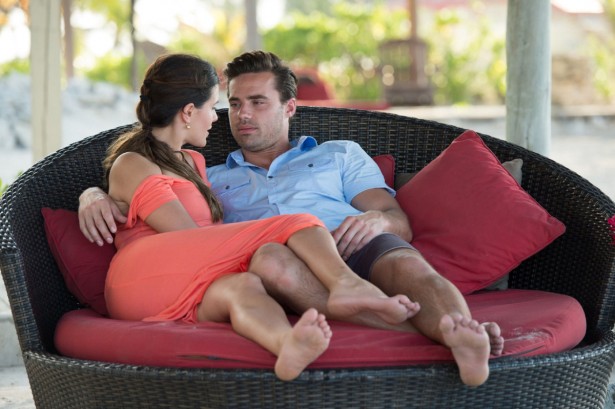 The next date is a two-on-one date. Tim thinks the two women are a little too similar and then booting the other. Uh-oh. Tim don't you know that no two women are never the same? Tim ends up choosing Trish for the one-on-one dinner date and make out session.
At the Rose Ceremony poor Timmy needs a second to make his life ending decision. He decides he can't let anyone go, so basically this week was for making true connections with everyone. Thanks Timmy.