Better Dating Ideas Chicago offers weekly tips on the best places for a date in your city. Check out our weekly postings for the unique and romantic dates in the city.
Women Are From Venus – Men are From Mars Live!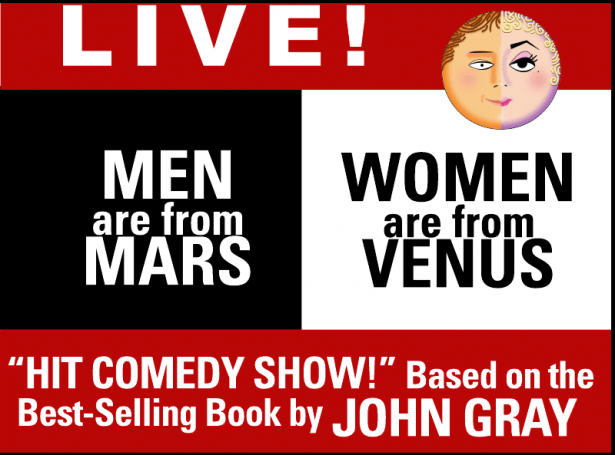 After beginning in Paris in 2007, Men are From Mars – Women are From Venus LIVE! has been seen by more than one million people around Europe. This hysterical show will have couples elbowing each other all evening as they see themselves on stage. Sexy and fast paced, this show is definitely for adults, but will leave audiences laughing and giggling like little kids!
Date: October 16-19th 2014
http://www.choosechicago.com/event/Men-are-From-Mars-Women-are-From-Venus-LIVE/25201/
A new series from Chicago Loop Alliance, ACTIVATE is part spectacle, part happy hour hangout. Combining the talents of Chicago's most creative minds, the events will feature art, live music and more in unique urban settings. No two alleys will be the same.
Date: October 16th 2014
http://loopchicago.com/cla/projects-and-programs/activate
"Agua Nacida," meaning "water born" in Spanish, is a unique collection of large-scale underwater nudes by renowned fashion and beauty photographer Hugh Arnold. Immersed in the playfulness and sensuality of water, the swimmers express the cycles of Woman through fluidity of movement: the womb's embrace, growth, discovery, sexuality, and of course, beauty.
Date: Tuesday-Saturdays from 12-6pm
http://www.hilton-asmus.com/hugh-arnold-agua-nacida.html
The Randolph Street Market Festival is home to the world renowned Chicago Antique Market, Indie Designer Market, Modern Vintage Chicago and the Holiday Market. It is considered "a mecca of cool", "the best hot spot for antiquing", "the best Chicago venue for people watching", and "the Barney's of Vintage". As one of Chicago's most happening monthly parties, Randolph Street Market has become the top destination!
Date: October 17th-19th 2014
http://www.randolphstreetmarket.com/randolphstreetmarket/index.html