Vancouver's Most Eligible Bachelorette: Nadine!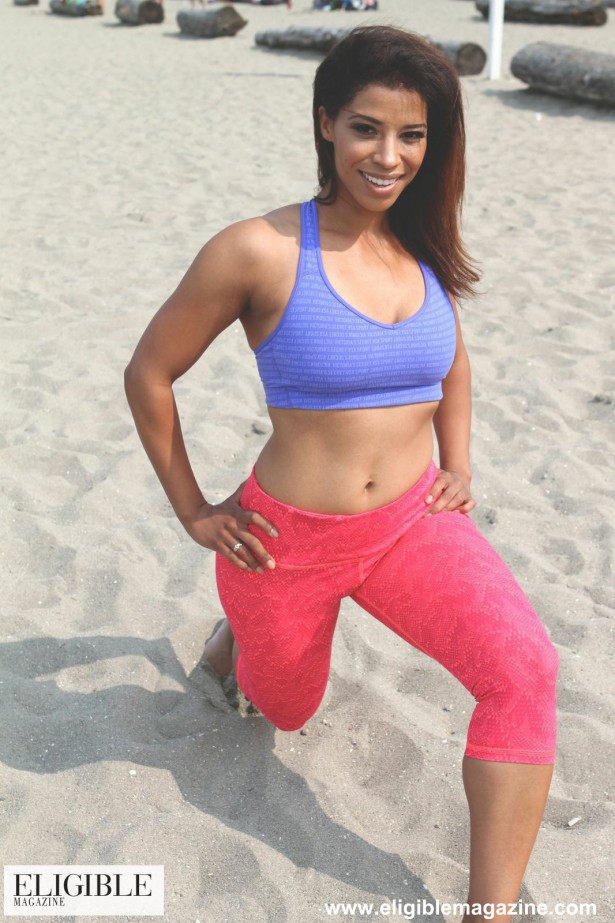 Designing clothes was always a hobby for Nadine, but after teaming up with one of her closest friends Tanya Théberge of Théberge Bikini, the two decided to branch out and form a retail line of luxury swimwear. Having cornered the market on Swarovski encrusted resort wear fit for the beaches of St. Tropez, the dynamic duo now have their sights on expansion into the UAE and creating a foundation that empowers women in developing countries to start their own businesses.
Nadine's connection with fashion and the swimwear industry inspired her to become serious about health and wellness and examine overall lifestyle. Focused on being happy from the inside out, Nadine teamed up with Team TotalBody Advantage in El Dorado Hills, CA and started the transformation. Nadine is currently working towards earning her ProCard Status with the WBFF federation, a big goal, but nothing seems too daunting for this beauty to take on!
The question Nadine gets the most: "Why are you single?!" The answer is simple: the last couple of years have been full! Building a business, two WBFF fitness competitions, bi-coastal living between Vancouver and Toronto, the discovery of a new industry= girl on the grind! Nadine's ideal man doesn't have to cross off all of the items on a magic list, but there has to be an instant connection. She appreciates a busy man; someone who respects and values time in the same way that she does. He must have goals of his own but enough room to support hers as well, and of course he must be open and accepting of gaining a cheerleader and a teammate in the amazing race of life!
In December of 2013 Nadine made the permanent move back to Vancouver from Toronto to accept an Account Executive position with a Canadian software company. She is happy to now call Vancouver home and is ready to share it with someone special.
"You have to live a few years of your life like most people won't, to live the rest of your life like most people can't" – Unknown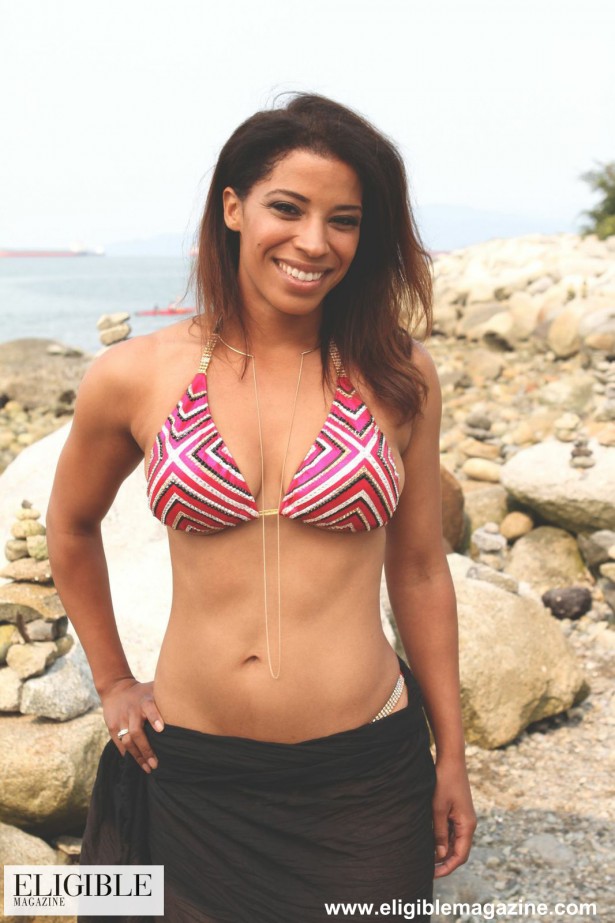 Name: Nadine
Occupation: Software Account Executive & Partner/Sales Director of T Théberge Designs Inc.
Things I'm passionate about: Technology, family, fitness, fashion, travel and the lean-in movement.
My ideal first date would be: Make me laugh; leave me with a good story and odds are good you will see me again.
People say that I am: "Small but mighty" was a term given to me by coworkers and has stuck throughout the years. It's even engraved on my iPod!
My ideal partner is: Passionate about life and his future but present in the moment. I don't want to drag him along; I want him right in there too, egging on my never-ending stream of antics! While sharing values is important to me, I also don't believe in a "list". If he is Mr.Right, maybe it won't make any sense at all.
Dating deal breakers: Homebodies and smokers. I don't own a TV and I value my health. I want a partner to grow old with so if your life style doesn't support growing old…we may have a problem!
I'm not bragging but: I can fly a plane and Filipino Folk Dance (bonus points because I'm NOT Filipino)!
A talent that may surprise you: I'm one helluva cook! I love hosting people in my home and feeding them endless rounds of great food and sumptuous deserts. My specialty? Anything Caribbean! People always assume career driven fashionistas can't navigate a kitchen.
Three artists you'll find on my iPod: Jay Z, Lana Del Ray and Bill Whitters.S
My dream vacation: I haven't ventured to Africa or Australia yet and my love of vibrant colours and rich landscapes has me itching to explore both! Ngorongoro Highlands. It's a Volcanic mountain range just south of the Serengeti. I have a feeling that it's a good mix of romantic scenery and safari adventure.
On weekends you'll find me: On a mountain! I moved back to Vancouver to take advantage of the outdoor lifestyle and now that I'm here I max it out.
What I put on my burger: Everything except pickles. The messier the better but it has to be spicy!
I was most impressed on a date when he: Took me out on a moonlight sail to watch the Supermoon and star gaze. The whole experience took my breath away.
In high school I was: Adventurous! Often the instigator and up for anything!
My guilty indulgence is: Cookies and bad comedies (think Borat, Harold and Kumar).
In my past life I was: "You live but once, you might as well be amusing" CoCo Chanel.
In my next life I'll be: One of these Yaletown Pomeranians. Those little bears live the life and I bet they run their households too.
If my life were a genre of movie it would be: Comedy. Hands down, slap stick comedy. I'm a bit of a comical klutz.
The actor that should play my life story is: Jordan Sparks (my alleged doppelgänger or so I'm often told).
Favourite ice cream flavour: The Salted Dark Chocolate from Bella Gelateria is TO DIE FOR!
To relieve stress I: Hit the weights. I always leave the gym with a smile and it's a great way to give back to yourself.
Favourite Vancouver spot: Hadden Park:It's the dog beach sandwiched between Vanier Park and Kitsilano Beach. Lined with logs, it has great views of downtown and English Bay.
If I played hooky I'd: Do a photo shoot for Eligible Magazine 😉
If I found a genie in a bottle my three wishes would be:
1. Fast Forward to the Théberge Designs Collection show at Bryant Park Mercedes Benz Fashion Week
2. Cure Cancer. I don't know many that haven't experienced the devastation of this disease.
3. To make beautiful stilettos comfortable (don't lie, you would wish for it too)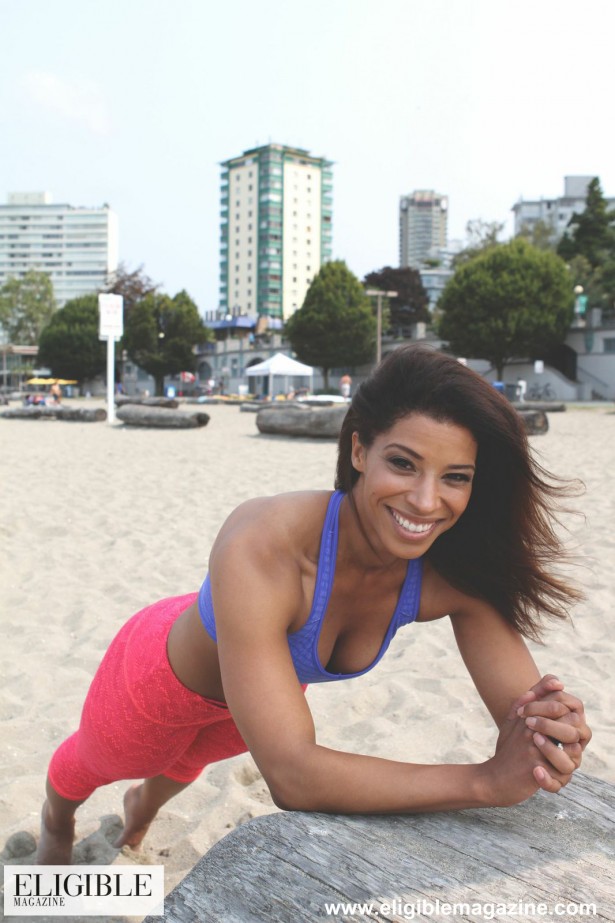 Want to suggest or even be one of "Vancouver's Most Eligible Bachelorettes"? Email

[email protected]

with your suggestion.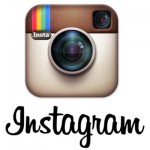 FOLLOW US ON INSTAGRAM TO SEE NEW BACHELORS AND BACHELORETTES WEEKLY AND BEHIND THE SCENES PHOTOS! (eligiblezinesmosteligible)
Credits:
Special sponsor: Krystalwaltermatchmaking.com