Q: Hey, Ward.
I've been dating my girlfriend now for a couple of months. We eat out most nights, or she makes dinner. She's starting to hint that she'd like me to make her my mom's famous homemade chili. Problem is, my mom never made chili and I can't even make toast. Cookbooks bore me and I'm not sitting down to watch a cooking show. Any idea how I can make some meals for my lady without having to take a class?
Brian, Edmonton.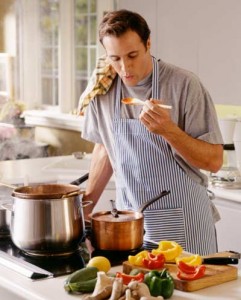 A: There are many advantages of learning to cook a decent meal by yourself. And there are many options out there to make it quick and easy. There are books like A Man, a Can, a Plan
, for instance. But let's add a little sophistication to our home-cooking. The folks over at Blade and Skillet have made it easy to whip up delicious dishes that seem as if they were made by a culinary genius…and in less time than it takes to flip through a cookbook. With amazing how-to videos that look as if Spielberg directed them, even the most novice of chefs can get easy step-by-step instructions on how to make some very impressive (and tasty) meals…using the most basic of ingredients that you probably already have. We're talking white wine chicken with asparagus, baked brie fondue, and herb infused trout. Almost every recipe is prepared in just a few minutes and takes less than thirty minutes to cook. That's a good thing because-after eating some of these meals—your lady will want some more time alone with the chef.
Have a question for Ward? Leave it in the comments below.