As a menswear stylist, one of my biggest challenges has always been suit shopping for my clients. It was nearly impossible to find something that would fit perfectly off-the-rack, and even if I was able to find something that was acceptable, majority of the time many alterations would have to be made to make it fit properly. This added extra costs to the already high price of the suit, and was frustrating for the guys who had to pay for it. It didn't take me long to realize that custom suiting is the way to go for most men.
10 Things To Consider When Buying A Custom Suit:
1.Wear snug fitting clothing to your appointment.
For measurements as accurate as possible, tight fitting clothing is key. If you have things in your pockets, remove them before the measuring tape comes out.
2.Don't get the functioning button hole option on the sleeves.
Even though functioning button holes scream style, it is not wise to have your first MTM suit created with them. Why? Because it is a very costly alteration. Lengthening or shortening sleeves on non-functioning button sleeves is quite quick and inexpensive to have done. I'd suggest saving this feature for your second MTM suit (making sure whoever created your first one accounts for the alterations in the second one). Once your measurements are locked in, you can customize to your heart's desire.
3.It's better to be too big than too small.
If you're measuring yourself (with a friend, of course), ensure the tape measure is not held too closely to the body, and if you're in between numbers, round up rather than down. It is easier to take things in than to let things out!

4.Don't go for the loud, bold fabrics or styles if this is your first suit.
                         You are going to want to wear it as much as possible, so you should go with a fabric and color that will be versatile. I'd recommend navy blue or dark grey in a medium weight fabric.

5.Know the difference between half canvassed, fully canvassed and fused suits.
Most of the time when you're having your suit made-to-measure, you are going to have the option of having it canvassed or fused. The main difference here is going to be how long the suit lasts and how it lays on your body. Although more expensive, a canvassed suit is going to lay nicer on your body, allow for more movement, and will last longer as the fabrics are not fused (glued) together, and are less likely to deteriorate with dry cleaning or bubble when wet.
RELATED: What color shoes do I wear with a grey suit?
6.Do your research!
Finding a maker who has good reviews is important. Another thing to look for is a company that will reimburse you for some or all alteration costs is key (many do up to a certain amount). It is quite likely that a few adjustments will have to be made to the suit once you receive it, some of which might be costly. For example, if the shoulders and/or the body needs to be taken it, it will be more expensive than if the sleeves, waist or pant hem need to be adjusted.
7.Keep track of all adjustments made to the suit!
If you intend on ordering another, it is wise to make note of anything you changed on the first so that your second has a higher chance of coming back perfect!
8.Do you wear a watch?
If you're going to be wearing a watch, consider adjusting the wrist measurement on your watch side. A ¼ – ½ inch extra will ensure your watch fits nicely under your sleeve.
9.Be cognizant of the fabric weights and types.
Learn a little about different fabrics, for example, a super 130 fabric is far superior to a super 100 but because of the fine fabrics, may not be as durable. Take into consideration what you are going to be using the suit for, how much you will be wearing it, etc., before choosing the fabric. Keep in mind, wool and natural fibres are always superior to synthetics.
10.Manage your expectations.
For the most part, a custom suit is going to fit you better than an off-the-rack-suit when you first try it on, simply because it was made for you. Do expect to have to have minor alterations made, however. Simple pant or sleeve length adjustments are common, and if the suit company's idea of 'slim fit' does not align with yours, you may have to have the pants tapered.
The Next Step: Adding personality to your custom suit, stylishly.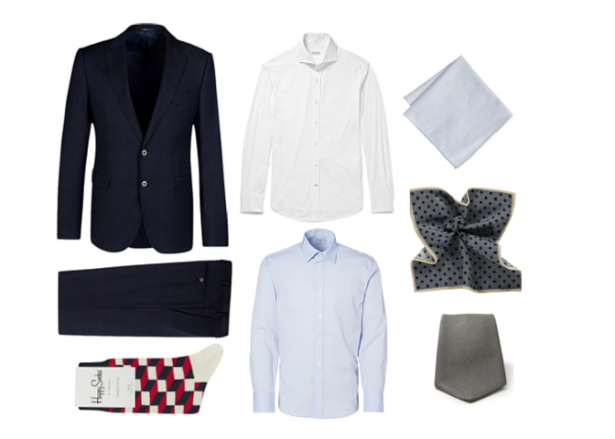 Now that you have your new suit, you want to make sure you are wearing it to its fullest potential.
Invest in a custom or slim fitting shirt. If the maker of your custom suit is able to make custom shirts (most do), I'd recommend getting one. If you're wearing an off-the-rack shirt that has a bunch of excess fabric, your suit will not lay as nicely as it is supposed to. For your first shirt, I'd recommend getting a white or a blue so it is classic, can be worn a lot, and isn't season specific.
Make sure your accessories are on point! A great tie, a pocket square and some funky socks are key to pulling your suit look together. Looking for quality pieces that will last means you won't be purchasing over and over. AKLASU, one of my favorite tie brands, is handmade in Italy with quality silks that are meant to last a lifetime but won't break the bank. Happy socks make a variety of fun socks for a reasonable price.