Paint Cabin is a rustic new coffee house and fully-licensed art bar in Leslieville where Torontonians can tap into their artistic potential in a laid-back, social atmosphere with intimate art workshops, quality instruction, top-notch art supplies and great food and drink. The perfect place to have your 1st date or even your 100th.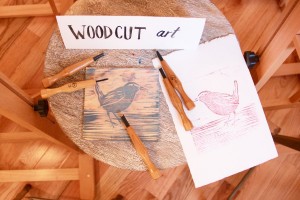 This social hot spot is the perfect space where you and your date can unplug and unwind over drinks and laughs while surprising each other with your creativity. But don't worry if you have no art skills because Paint Cabin is currently offering 2.5 hour art workshops catered to beginner and intermediate artists in five different mediums – watercolour, acrylic paint, woodcut art, mixed media and sketching – all of which result in a cool piece of art you'll be proud to hang in your home.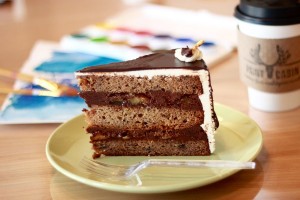 Our favorite aspect of this cabin in the city is the relaxing cottage-style feel where you can kick back and de-stress with specialty coffees, local craft brews, local wines and sweet treats in the cafe, which is open on weekends and during workshop hours.  We recommend you try their espresso – bright and sweet with hints of caramel – and your favorite bakery item which include scones, croissants, cookies, squares, cakes, pies, tarts and crumbles.
The best part of the baked items are that they are from some of Toronto's best bakeries: Wanda's Pie in the Sky and Earth & City. They even have vegan and gluten-free options always available, perfect for that date that has food restrictions.
During non-workshop hours on the weekends, Paint Cabin operates as an open art studio for budding and professional artists alike, who are welcome to bring their own materials and use the easels and communal art table for as long as you like with a purchase from the cafe, of course. Canvases and other art materials are also available for purchase. So whether you and your date want to learn something new and take a class, or you are dating an artist or maybe you are the artist and you want to share your passion with your love, this is the place has everything you will need.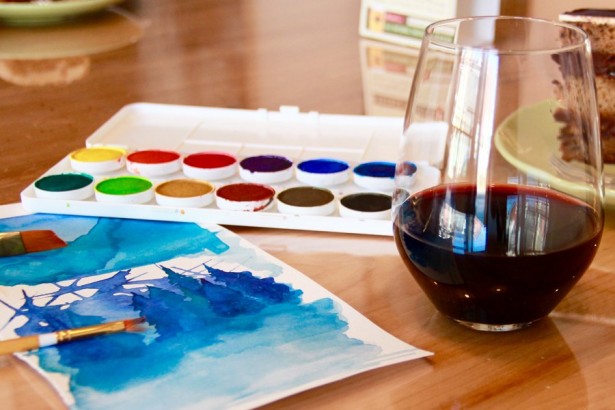 So if you and your date need something to do this weekend, check out Paint Cabin's website and get your smocks ready for a great night.