Well, it's that time of year again! Get out the popcorn, because The Bachelor is back for its 20th season. In the premiere episode we met Ben Higgins, who some of us might remember as an adorable reject from Kailtyn's The Bachelorette season. Ben won fan hearts when he confessed to feeling "unlovable." "I got rejected and it still stings." As host Chris Harrison noted, what better way to give this poor guy a break in love than to make him the bachelor? Tall, dark and handsome Ben claims that he wants a love like his parents have. Aw. Before the girls arrived we got the standard meeting with past Bachelors, and Sean Lowe gave classic advice that everyone struggles to follow: don't kiss multiple girls you're simultaneously dating in front of each other.
We've finally met the ladies out to win Ben's heart. With 28 stunners stepping out of the limo, this season promises to be as drama-filled as ever.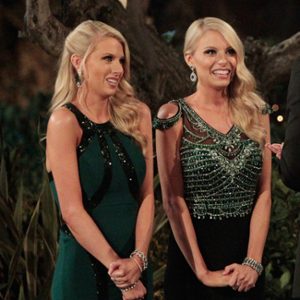 Notable entrances included identical duo Haley and Emily, who pointed out that dating twins is everyone's fantasy. Who can argue with that? Good luck to Ben though with telling them apart.  We also met Tiara, a self-proclaimed "chicken enthusiast." Joelle wore a unicorn mask for no apparent reason. Maybe she hopes their love is magical? Keeping in theme with the barnyard, cowgirl Maegan came in with a miniature pony named Huey. Dentist Mandi dropped in wearing a huge "first impression rose" hat, and suggested Ben could "pollinate it" if things went well between them. Pajama-clad Izzy ditched the fancy dress code for an epic pun. Ready for it? Ben is the "onesie" for her. Caila jumped into his arms.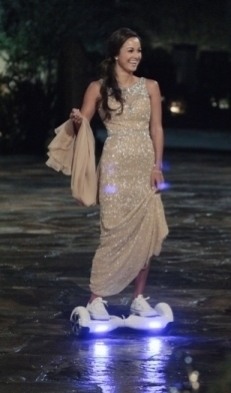 Lace walked in full of confidence and planted the first kiss on Ben as soon as they met. "I wanted to be the first." More about that later. We met Canadian Jami, who apparently heard from her Bachelorette friend Kaitlyn that Ben has "a really, really big….heart." Lauren R. might have came on a bit strong by telling Ben she stalked him over social media. Olivia showed her commitment by telling him she left her news anchor job to come on the show. Ben mentioned that she made "an incredible first impression." Single mom of two, Amanda, kept quiet about her quest for a father figure. Unemployed Rachel stopped by in true 2016 fashion via hoverboard. (Maybe this will start replacing the limo?)
With 26 out of 28 contestants there, the girls went inside. Kisser Lace immediately started grating on the other girls nerves. It looks like we might have a season villain, with Caila calling her "50 shades of crazy" and Lace's general stance that she is there to win. Lace also looked pretty well acquainted with her wine glass. When Ben came in, Flower Power Mandi stole him immediately and gave him a (debatably) intimate tooth inspection. We can all rest easy, because the dentist proclaimed him "definitely kissable" and speculated that he must floss. Lace didn't like that Mandi got to him first.
Ben met with other girls, but it wasn't long before Lace snagged him again and boldly went in for kiss #2. Ben gently turned her down, saying that he finds her beautiful but he was worried about being "caught up in the physical." He just wants to get to know her first. Sure Ben, sure. Still, it's nice to hear, especially for those of us who cringed through the "dating" styles of infamous Juan Pablo a while back. Stay golden, Ben.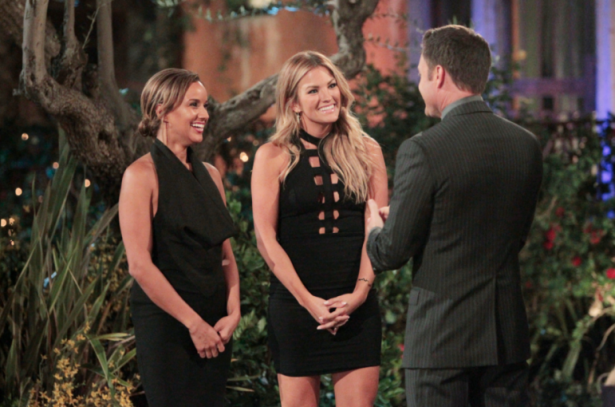 We finally got to see the two mystery contestants, both from previous Bachelor Chris' season, Becca and Amber. Becca is remembered for her desire to save her virginity for the "one." Lace immediately was not a fan, asking us, "Who wants a virgin?" In general, the girls all seemed a bit threatened by the newcomers, saying they "have an edge" because they've done this before.
Ben went looking for Lace to repeat again that his rejection of locking lips is not a rejection of her. He worried about her feelings. They hugged. He seems like the kind of guy who does genuinely care, which wins him points from the start.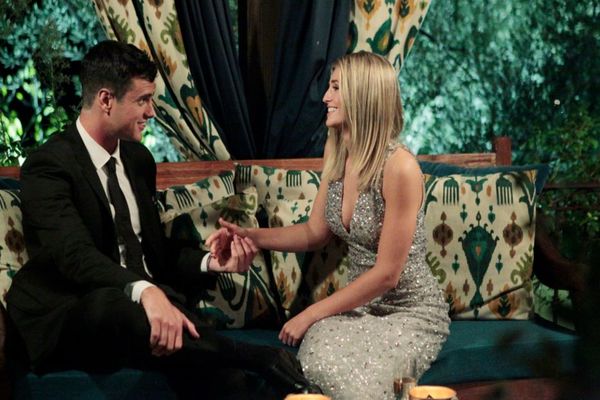 Olivia got the first impression rose. Giving up her job to come paid off, and Ben was really impressed. We said goodbye to a roseless Laura, and redheads everywhere wept when she wondered if her ginger hair held her back. Nutritionist Breanne, who literally made Ben "break bread" with her rather than ice, was also upset about the early send off. After the ceremony, a slurring Lace pulled Ben aside to voice a big concern; while he was giving out roses, he didn't make eye contact with her. He was nice about it but seemed frustrated later in front of the camera about her high expectations. "I gave her a rose!" What more do you want, Lace? What?
As the credits rolled, host Chris hung out with the pony Huey, promising him a future as the Bachelor. If he wants it, of course. I think we'd all watch. So there it is. Tune in this Monday on ABC for episode 2's stormy weather, because IT'S RAINING BEN. Check out these sneak peeks for the upcoming season here!