Last night's episode was the ending of an era. The Era of Eye Contact. From the opening credits, focus in the house was cast away from Lace and towards rose-winning Olivia. "He's my man," she insisted, but the other women seemed less sure of her appeal.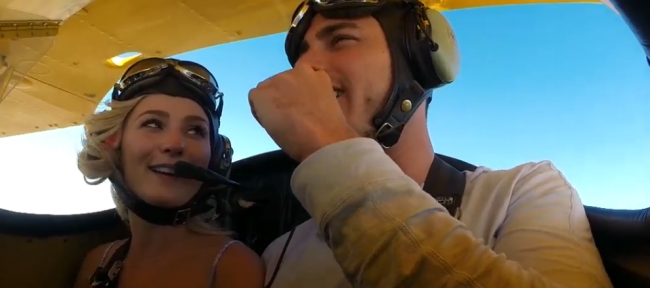 We started off with flight attendant Lauren B.'s one on one date with Ben. The clue? "The sky's the limit." The small three-seater plane on the runway was definitely a change from the commercial flights poor Lauren was used to. She was visibly nervous as they took off into open sky. Of course, what's a terrifying plane ride without some kissing? The first few lip locks were each more awkward than the last. But let's not be mean, and just chalk it up to aerodynamics and sitting side by side in a cramped space. The flight path happened to go over the mansion, where other contestants watched on enviously.
Ben and Lauren ended up in what could only be described as the wilderness.They walked for a bit until coming upon a particularly odd bit of wildlife: a hot tub. Yes, a wilderness hot tub. If you're thinking this sounds a little like Caila's steamy date last week, you're right. Just take out the cheap factor. The pair smooched in the water, and we finally saw some chemistry between them. Later that evening, Ben asked Lauren how she could possibly be single and got an A+ answer: "I'm picky." Maybe Lauren should have read our article on what to say when asked why you're still single. They bonded over their love for family and "simple things." Ben even told us, "This girl's special." That being said, when Lauren mentioned she would love to meet his family, our guy went quiet. Too soon, Lauren. Too soon. She quickly backed away from that and got her rose.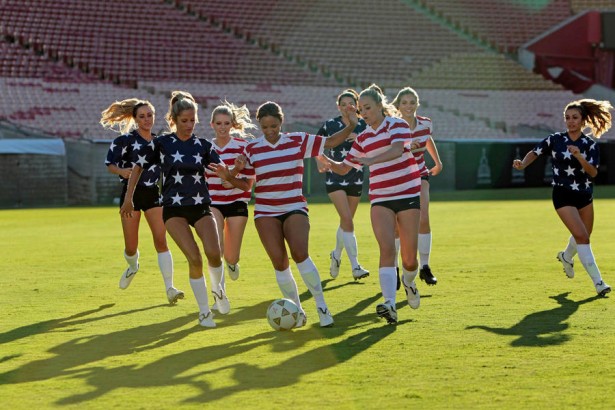 On the group date, the girls' took to the soccer field. After last week's track and field day–remember that hurdle race?–it's clear that Ben is looking for someone to match his active lifestyle. Either that or he just likes watching them all run. Worth noting on this date was the moment we've all been waiting for. They split up the twins. The opposite Team Star vs.Team Stripe uniforms finally cleared up who's who among the identical pair; if only they could keep those on throughout the competition.
Back at the house, ex-veteran Jubilee made the heart wrenching confession that she doesn't feel she's Ben's type. She's "complicated." While Olivia swooped in on Ben, the other women took the opportunity to make fun of Olivia's ugly toes. Really? Lace finally got some screen time, but it was more of the usual. "I put up a wall when I'm uncomfortable," she told Ben. Amber got the rose of the night after a kiss, and Olivia was not happy to have missed out on the win. "I know his heart." Jubilee found out she was given the one on one date and jumped up and down in excitement.
Unfortunately, she was less obvious about her enthusiasm the next day. When Ben arrived, Jubilee mentioned he was twenty minutes late, and things only seemed to get more tense from there. As the height fearing contestant was lead to a helicopter she joked, "Does anybody else want to go on my date?" More about that later.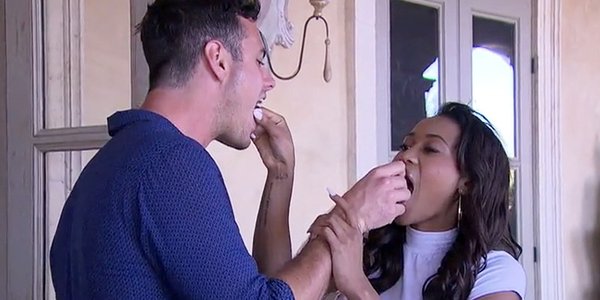 When the two landed at an outdoor health spa, Jubilee had her first taste of caviar…and promptly spit it out. When a laughing Ben asked her what kind of food she does like, Jubilee admitted to an obsession with hot dogs. Like a 7-year-old kid with his first crush, Ben came back with, "I like hot dogs." Aww. As the date progressed, Jubilee seemed more relaxed and didn't mind teasing our guy. She also wasn't afraid to call him out, noting that Ben usually has an "uncomfortable laugh" she didn't hear on their date. Ben told us that Jubilee makes him laugh, blush, and that she "stretches" him. Although she confessed to usually feeling socially awkward, Jubilee's honesty earned her a kiss. At dinner, she opened up about her painful past and the difficult topic of survivor's guilt. Ben's eyes seemed a little bright–tears?–as he listened. She got her rose, but later Ben told the cameras something of even more significance: "I could see myself falling in love with Jubilee." That's a first for this season.
The contestants back at the house were shocked to find Jubilee still in the running. Remember that joke she made about someone else going on her date? It turns out, the other women took it personally. Really personally. As the backlash of this unfolded, Ben got some bad news. He was visibly subdued as he told the women that two people from back home died in a plane crash. Here's where Olivia made her first big misstep. Pulling Ben aside, she proceeded to cry about all of her insecurities. As Ben later told us, this was not what he needed right then. Luckily, Jubilee had a better idea and gave him a massage. Ben visibly relaxed. But with drama already brewing between Jubilee and the others, this was the tipping point.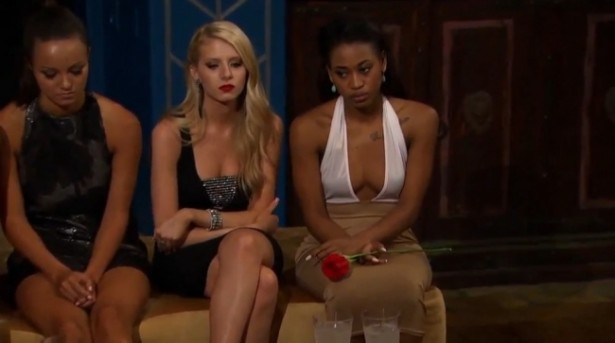 Later, Amber pushed Jubilee for a group confrontation. Shockingly, Jubilee declined to participate in this fun sounding chat. Caila quietly pointed out that with so many people "it's not a conversation, it's an attack." Ben actually went to find Jubilee, who was crying by herself. Amber followed them and told the two about all the "tension in the house" as a result of Jubilee's offhand joke. "I can't walk on eggshells," cried Jubilee. What's important to note in this conversation was Ben's reaction. He kept his arm around Jubilee, then shut Amber down: "I like that she doesn't walk on eggshells."
After all this, Lace asked a still grieving Ben to talk. Worst. timing. ever. As it turns out though, she wanted to go home. Lace cried as she said she needed to work on herself before she could get into a healthy relationship. Ben hugged her and The the Era of Eye Contact officially ended. At the rose ceremony, Olivia's was the last name called. As Ben squeezed her waist, she took it as a clear sign that he's still hers.
Don't forget to tune in next week, Bachelor Nation! Things are heating up in the house, and it looks like the drama is just getting started!