Summer is all about sitting poolside or on a patio with a refreshing cocktail in hand. The trouble with a lot of pre-mixed beverages though is that they are full of unwanted sugar and calories. Instead, try one of these easy and delicious concoctions at your next party and you will save yourself the love handles without skipping on the taste!
Watermelon Basil Mojito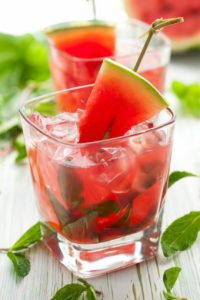 Ingredients:
1 oz. White rum
1 cup Watermelon
½ cup Sparkling Water or Club Soda
2-3 Basil leaves
1 tsp Lemon juice + zest
Ice
1 tsp Honey
Directions:
Add 1 tsp lemon juice and 1 tsp honey to a glass along with 1 oz. white rum. Add 2-3 basil leaves and the zest of a lemon. In a blender mix 1 cup of watermelon with ice. Pour into your cup and top up with sparkling water or club soda. Give a mix and enjoy!!
105 calories, 14g carbs, 0g fat, 11g sugar
Raspberry Lemonade
Ingredients:
1 oz. Raspberry Vodka
1 cup Raspberries
1 Lemon
Ice
1 tsp Honey
Directions:
Add ½ the juice of 1 lemon,1 tsp honey and 1 cup raspberries to a glass and muddle together. In a shaker combine 1 oz. raspberry vodka, the other ½ of the lemon's juice and ice. Shake well and pour into your glass. Stir it up and sip away!
135 calories, 17g carbs, 1g fat, 7g sugar
Pineapple Grapefruit Margarita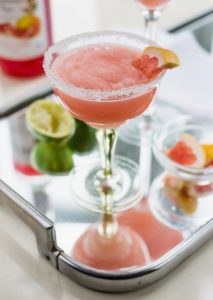 Ingredients:
1 oz. Tequila
1/2 cup cubed Pineapple
½ cup Grapefruit juice
Ice
Lime wedge
Directions:
Blend 1/2 cup cubed pineapple with ½ cup grapefruit juice and some ice. In a shaker cup, mix tequila, ice and blended pineapple and grapefruit mixture. Shake well and pour into a glass. Garnish with a lime wedge and relax with your new favorite cocktail!
161 calories, 23g carbs, 0g fat, 6g sugar
Whether you are enjoying these with a group of friends or on your own, you will definitely make patio season fun and delicious!