I am a die-hard Indianapolis Colts fan. This reality comes with rooting against the Pats and Brady at all times, mostly so you can keep Brady and Peyton Manning in the same potential GOAT conversation. Add in the fact that I made a nice 10-1 wager on the Falcons to win the Super Bowl before the playoffs began and I was in full blown red and black bird mode yesterday watching the game.
Down 28-3 in the 3rd quarter, Super Bowl LI looked like another bore fest that we had been accustomed to these playoffs. Leading up to Sunday, 9 of the 10 playoff games had been just utterly painful to watch.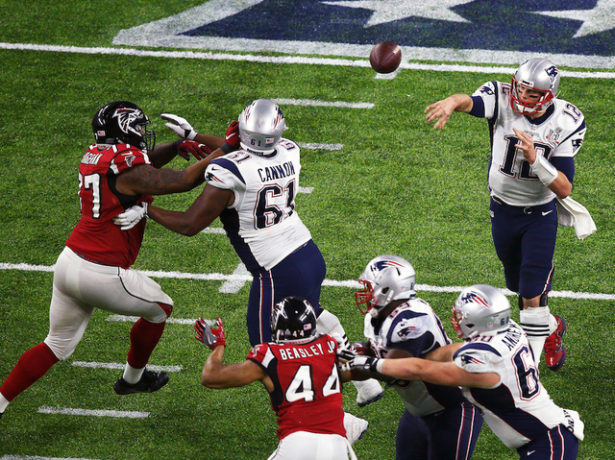 So there I was, stunned yet happy as Brady was getting outplayed and Belichick out-coached… wait, what?!?
Long time Patriots fan Marky Mark left the game early, Falcons owner Arthur Blank came down to the field in preparation to celebrate, and I was getting texts from my Falcon fan friends planning their victory party. I mean, why not? With 5 minutes left in the 4th quarter, the Falcons had a 99.6% chance to win the game. 99.6 PERCENT FUCKING CHANCE!!! So now we know… you never leave Brady and Belichick .4% chance to win, because they will make you pay.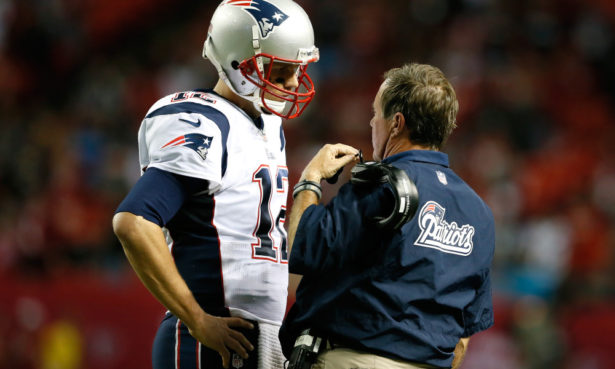 I will remember that game for the rest of my life. You could talk about the plays and moments and misplays, but everything that happened ultimately cemented two things: Tom Brady is the greatest Quarterback of all time and Bill Belichick is HANDS DOWN the greatest coach in the history of the game. There is no more argument, although it pains me to admit this. The only real argument now is who means more to the Pats, Belichick or Brady?
Personally I Believe Brady owes a HUGE amount of his success to Belichick. I mean, the Pats went 11-5 with Matt Cassel. MATT CASSEL! This season, they went 3-1 without Brady. Bill has a well oiled machine at every level and position. They are a disciplined, smart, and forward thinking team because of Bill. I think you throw Peyton or Rodgers with Belichick and they have the same number of rings, if not more. If you put Brady with any other coach or team, I think he has success, but nowhere near 5 rings.  We are playing the "What if" game here, but that's because it's the only game left to play. These guys are the best we have ever seen.
What makes them so great?
I played football my whole life, retiring after 4 years of University Football. There are certain intangibles you don't fully understand unless you play ball. One is momentum. An old coach used to say "There ain't no mentum like momentum", and it couldn't be more true. Momentum isn't something you can measure, it's a feeling that develops and is extremely infectious. Nobody capitalizes and strikes fear in their opponents like Brady and Belichick when momentum swings in their favour and they get rolling.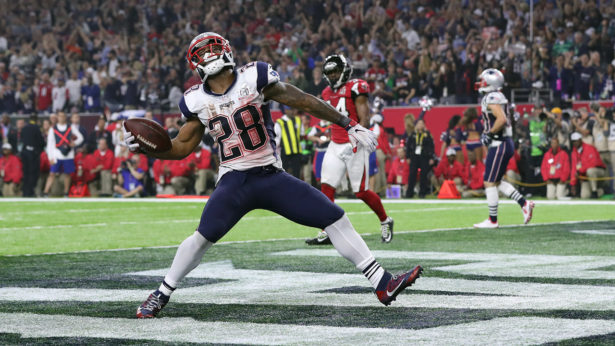 Another huge part of successful football team is mental toughness. You're always going to face adversity, get beaten up, and be down during games. How do you handle it? It's very easy to get low on yourself, a feeling that shows up on your face for all your teammates to see. It's infectious and can spread quickly. Atlanta started feeling the pressure being put on by New England in the 4th and quite simply ran out of gas, physically and mentally.  New England knew they needed 2 touchdowns and two 2 point conversions to tie the game with 5 minutes left. Statisticians earmarked this a .04 % chance they would pull it off.
Tom Brady and Belichick have built a culture around mental toughness.  They embrace these moments. After New England scored the first TD and 2 point conversion to bring it to 8, it was a wrap. I knew it, Pats fans knew it, and Brady definitely knew it. They were not being stopped.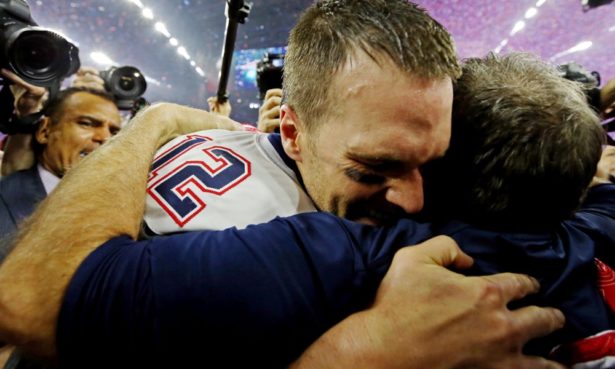 So… what can you even do at this point? I'll just continue to root against the Pats, continue to talk about Peyton being the best regular season QB ever, but I can no longer try to say Peyton is better or equal to than Brady. I just can't. Brady is the greatest ever. Period.
It's Brady and Belichick, the two GOATS, then everybody else.