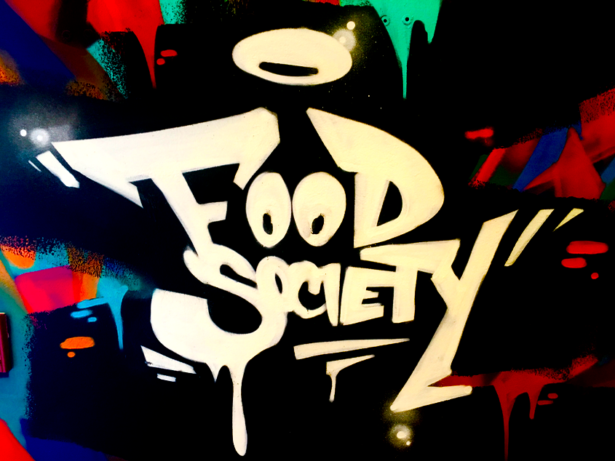 Eating, drinking, entertainment, relaxing… together it sounds like a perfect evening. Luckily, there is a place that embody's all of those wonderful things and that is Food Society. On July 18, 2017 Food Society Café and Lounge, located at 650 Bay Street in Toronto, hosted their official opening. It was a spectacular event filled with elegance, class, and excitement. For all of you Instagram lovers who are always searching for that perfect post: this is definitely the place for you. The patio was styled in neutral colours and accessorized with outdoor lights and bright pops of colour which enhanced a casual and fun aesthetic. Plus, who doesn't love a good patio?
Well, if you don't quite fancy the outdoors, the indoor portion was just as wonderfully decorated in metallic tones against a red brick wall for a rustic but elegant vibe. Oh, not to mention that the lounge holds the bar for those who aren't the designated drivers, of course.
Speaking of drinks… this Toronto event was sponsored by the United Stars distribution service of wines and spirits. There was an assortment of red and white wines available for tasting as well as specialty liqueurs that had every guest's tongue dancing. Diana Voskanova, the owner of Food Society, exclaimed her enthusiasm for the event as well as noted about the lounge's exclusive bar featuring wines. Find out more about United Stars at www.unitedstars.ca. 
The manager of Food Society, Richard Bailey, stated that the event was a great preview for everyone to enjoy the atmosphere and indulge in the Chef's delicious creations. Chef Joe Friday served his delectable cuisine including fish, wild rice, jerk chicken, cauliflower, and açaí smoothie bowls which the guests very much enjoyed. He enthused about his excitement for the opening of the café and lounge as he will be creating appetizing and original assortments of dishes for lunch and brunch including pastries, salads, and much more. Friday commented that he cooks from a natural and wholesome perspective using organic and fresh ingredients which are sourced from farms. I can tell you personally that his food creations definitely did not disappoint. To top it all off, there was an attendant who created fresh-espresso through the process of a vintage and authentic coffee maker.
What is good food and tasty drinks without a little bit of entertainment? Food Society will actually have daily entertainment and performances and they kicked it off at the opening event with Deejay Marlonmack who will regularly be appearing at Food Society along with DJ Carl Allen. Later that night, performances by Dru and Alex Price wowed the audience as they performed covers and original songs. Dru enthused that: "Food Society is the new spot!"
All in all, it was a fantastic night with amazing food, great entertainment, and a relaxing environment. Visit Food Society Café and Lounge at 650 Bay St. Toronto and check out more information about them at www.foodsocietyx.com.