2017 was an intense year for fashion and makeup but it is officially over. From the deep contouring,  glitter on… everything, highlighter that you can see from miles away, bold lips and the intense smokey eye. Well, take a deep breath because this year is going to be much more laid back when it comes to your morning make-up routine. That's right, you can put away your excessive amount of brushes taking up space in your bag, while you're at it do a deep clean cleanse of your whole make-up table and get rid of anything you have used only once or have not used in the last 4 months. This will not only feel great but free you from old makeup taking up too much space.
This year, especially during the Spring/Summer 2018 months be ready to embrace your natural glow instead of covering it up. These new trends will make your makeup routine a little easier plus give you some extra time in the morning before you have to head out the door. Here are the Top Makeup Trends that will leave you looking effortlessly beautiful.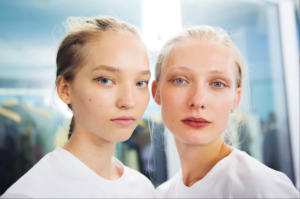 A Fresh Face 
Show off your natural beauty by keeping the foundations, contouring, and powders to a minimum. The more skin you show the better, this allows your skin to breathe resulting in fewer breakouts and happy clean pours. If the thought of stepping out without any coverage terrifies you find a tinted moisturizer or lightweight BB cream.
RELATED: 5 Beauty Hacks
Keep your skin looking it's very best by staying hydrated… NO SERIOUSLY this really does make a difference and invest in your skin with a good face mask or overnight cream.  Don't forget with or without makeup always include sunblock with at least an SPF of 15 into your daily makeup routine to prevent sun spots, wrinkles, and getting burnt.
Dewy Lips
In 2017 it was popular to make bold statements with your lips starting with all colours of the rainbow to your lips actually being reshaped or overdrawn with the stress of using a plumper… Does anyone know if those really work?  This year we do not have to worry about using a straw for our drinks or if you should kiss that boy goodnight after your date because a subtle natural lip is in favour.
Forget the lip kits because a simple clear or nude pink lip gloss is all you need. As seen on many of the runways models were wearing little to no lipstick and if they were it was a sheer gloss that enhanced their natural colour or a clear gloss to give a moist luscious effect.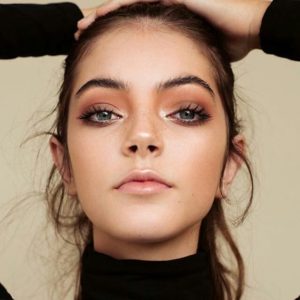 Peachy Keen

Keeping up with the "natural" trend, peach is a huge colour to add to your makeup collection. It gives you not only some balmy colour but a radiant glow that looks healthy. This colour is not restricted to just your lips, you can use it as a bronzer, eyeshadow, blush, and it is especially beautiful to use for highlights. This colour is so easy to blend and use all over your face going for a monochromatic natural look.
RELATED: 5 Beauty Shortcuts For The Busy Girl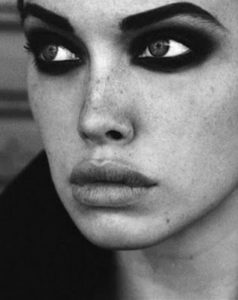 Black Out Eyes
If you like something more dramatic in your makeup routine this is the perfect look for you to try out. The last couple of years wings and top lid eyeliner have been dominating the makeup scene, we are in for a switch-up because fully black lids are new and hot. Covering your eyes with black shadow or preferably eyeliner without mascara is a look that has been popular on the runways this season. If you aren't into the whole eyelid thing try black eyeliner on your top lid and your waterline connecting them with a sleek wing.