Jeans are a staple piece in our wardrobe because denim carries into every season changing ever so slightly. They can be worn casually, practically, going out for the night, or running errands; jeans are always a safe bet. The most amazing thing about all denim is it can be easily upcycled and altered to be in trend for as long as you want them to be. These are some of my favourite trends that are effortless and can be worn basically anywhere.
High-waisted
THANK YOU FASHION. I was not happy when I heard a rumour that high-waisted pants were going to be phased out this season and that low rise would creep its way back in. Let's be real, high waisted looks great on everyone while low rise looks great on a select few. I love this style because it is so classic and can be worn with almost anything. My favourite is a crop top and cardigan or a band tee and leather jacket.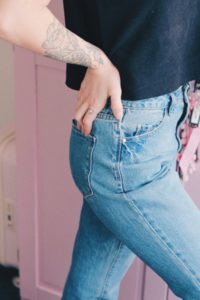 Slouchy Silhouette
We no longer have to worry about painting on our jeans anymore. No more little dance to get yourself all zipped up and ready to go with a freshly washed pair of skinnies because the Mom look is more popular than ever. Ciniched at the waistline to define your curves and bum but allows your legs to breathe. The bagginess is a little less than the boyfriend jean which prevents your legs from getting lost in the pant. These look great rolled or cropped at the ankle.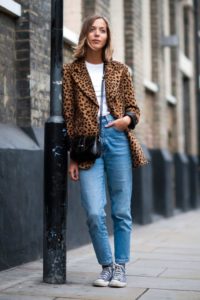 Mix-Matched Tones
Recycling fashion is always on trend. This season we will see lots of deconstructed styles that are resewn together with a different pattern or shade of denim. Jeans in multicolour tones will be seen all over the place. Especially in our pants and jackets. Wear with a neutral tone or a pop of colour to play up your look. You will also see a lot of matching denim sets with the two-tone style to break up the colour scheme a little. This is the best season to pull out your Canadian tuxedo because it is back hotter than ever. Try one with the multicoloured tones to really set a statement.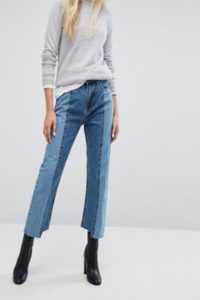 Cropped
This style of jean is usually seen with skinny or flare denim and is super cute and clean. You can wear it for basically any occasion since it looks sophisticated, cute, and put together. The cropped jeans style is so easy to pair with shoes because it looks amazing with both heels or sneakers. If you really want to get edgy try a pair in a matté pastel pink or dusty rose colour.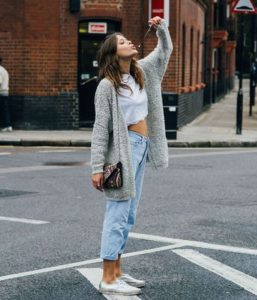 Embellished
Jeans this season are going to be a new way to make a statement. This trend first started out by adding retro patches onto our denim jackets and pants. This season the embellishment trend has intensified with pearls, chains, powerful statements, bigger patches, and patterns. This style is inspired by the 1990's underground culture. Embellished jeans are a great way to stand out and be unique. Find a pair that best represents your personality, if you buy a pair you love, you'll get good use out of them.