The weather is getting warmer and the sun is getting stronger. Before you know it we will be having fun in the sun; tanning, swimming, boating, and all the other good stuff. What do we need for all those things? Our favourite swimsuits! Every summer we see new swimsuit trends and our classic favs with slight alterations. Read on to find out what to expect for Summer 2018. There are some good ones!!!

Simple One Piece
This swimsuit made its debut last summer and guess what it is sticking around. This year with a more simplistic approach in a neutral colour will be your go too. If you want it to be a little less basic try one with a cute detailed texture or an interesting cut-out piece. This swimmer will get you through the summer and hey it can even opt out for a bodysuit to wear with shorts. It's a win-win.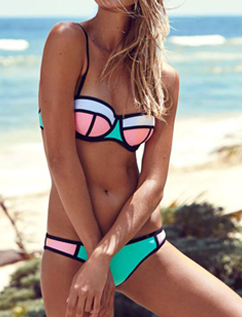 Colour Blocking
This is a minimalistic approach to the bikini or one piece. Using colours in different geometric patterns that overall help to compliment your body because it is very slimming. This new trend is very different than the usual florals, polka dots, and stripes and will help you stand out on the beach. This style looks best with high contrasting colours such as red, white, and black.
Photo: Poppy Flamingo Fling Top. $89.
Ruffles
Ruffles all over the place this summer. Find them on the bottoms, ribbing the top,  or in addition to an off shoulder styles top.This style is so cute and incredibly easy to pull off. The ruffles somehow pull off a very girly yet sexy vibe. When a bathing suit has ruffles on the bottom is defiantly enlarges the booty so try a pair of these if you want to make your bum look full and plump at the beach this summer! I've seen ruffled bikinis almost in every store in a variety of colours and patterns.
The White Bikini
These swimsuits are really beautiful, especially with a golden tan. The functionality of a white bikini though I am not completely sold on. There are many fears that come to mind along with the white bikini a major factor being discolouration. I have trouble even keeping my white shirts clean. But truth be told this is easy to pull off and looks nice on just about anyone.