Nordstrom is one of our favourite places to indulge our inner fashionista. It's a Department Store paradise, where they employ fashionable spirit guides to help you source the ideal sweater. Basically, what's not to love? But shopping at Nordy just got even better. Because, this holiday season, Sentaler will be donating proceeds from their Nordstrom sales to SickKids!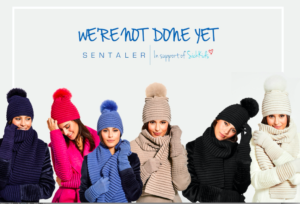 RELATED: Are Your Fall Woes Only Temporary?
For the third year in a row, the Sentaler line will be donating the proceeds from its signature ribbed line of accessories to the SickKids Foundation, a cause that helps countless children and their families. That means you can pick up a cute pink scarf for your sister while making a positive change in children's lives. That sort of gift makes people feel all warm and fuzzy, and not just because Sentaler outwear is made to protect you from cold temperatures…
Sentaler is designed by famed Canadian fashion designer, Bojana Santaler. Her gorgeous garb is so versatile, it can be worn everywhere from the Christmas Market to the ski slopes. Plus, Sentaler's glamourous winer looks have been donned by none other than duchess Meghan Markle, and the future Queen of England, Kate Middleton. That's pretty good company!
So why not give your loved ones the royal treatment by procuring them holiday gifts fit for a princess? The Sentaler line has something for everyone, featuring cute hats with pompoms, as well as chic navy blue gloves. Whether you're treating yourself or desperately seeking the perfect gift for your mom, you can't go wrong with a Sentaler accessory. After all, a piece from Sentaler is the gift that keeps on giving to the kids of SickKids long after it's opened…
So, as if you're looking for an excuse to head to Nordstrom, there's no better reason than to pick up some luxurious Sentaler pieces. Meghan Markle would agree!