You've opened your holiday presents, eaten turkey, seen and (hopefully) avoided awkward arguments with your family members. You did it! You're a star. Now it's time to celebrate everything you accomplished this year at an awesome New Year's Eve party. And this begs the question, what does one wear when the calendar is turning over from one year to the next?
New Year's Eve parties come in as many varieties as limited edition Oreo flavours. That is to say, there are many, many kinds. Dressing appropriately – no matter what the occasion – is a skill. Lucky for you, we curated three looks to draw inspiration for your New Year's Eve style to give you a boost of inspiration.
New Years' Eve is about aspirational hopes for the future, about letting yourself dream big about what the new year might have to offer. No, I'm not referring to resolutions that are bound to be violated and broken two weeks in. New Year's Eve is instead about anticipating pleasant surprises and a steady evolution into being an even better you with every turn around the sun our planet takes.
What better way to mark new beginnings than by surprising your friends, and yourself, with a bold new style to ring out the old year and ring in the new? Let's take a peek at some killer works to help you celebrate in style, no matter what sort of party you're attending!
RELATED: Awesome New Year's Resolutions That Aren't That Hard to Keep
So, You're Going to A House Party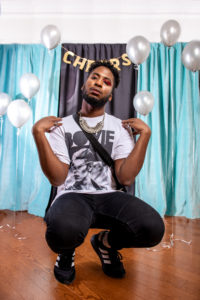 New Years Eve house parties are the best. They're meant for impromptu living room dance parties, mixing whacky drinks, someone always orders pizza, and even though it's winter you somehow always end up on the front porch trading stories.
House parties also mean relaxed comfort. Since you're basically hanging out with some buddies on a friend's couch, they're the perfect opportunity for rocking some street style. A great way to pull together a cohesive street style is by keeping the colour palette monochromatic but adding lots of texture. Start by layering pieces in white, grey, and black. Then add fun elements with varying layers of visual texture.
For Jem's house party look, stylist Meghan Hamilton paired a graphic David Bowie t-shirt with a pair of textured moto-style black skinny jeans. She then layered a black puffy jacket on top for those porch visits and a fanny pack for any accouterments. A great  collar necklace and Nike sneakers finish off this monochromatic outfit.
Makeup artist Mel Fortin swiped an opaque bold red across one lid to finish off this avante garde house party look. Men, take note! If you're a dude who likes experimenting with makeup, don't be afraid! If a full lid of eye colour is too ambitious, start with a swipe of eyeliner in black, gold or silver. Don't worry about being too precise with the application, the great thing about this eye is how it's meant to look smudged, and messy. It is the ideal gateway into makeup for novice makeup users. Why not get into a new look for the new-year?
So, You're Going To A Cocktail Party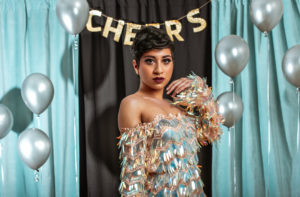 Cocktail parties are the best. You get to drink interesting bevvies made by some fantastic bartender who's probably wearing an apron more expensive than your shoes. There's usually a DJ, or at the very least, a well-curated Spotify playlist. Best of all, there's always a cheese board! Although cocktail attire is a bit more restricting in terms of comfort, you have the opportunity to rock the boldest, baddest outfits and tear up the dance floor.
When heading to a cocktail party, it is absolutely valid to wear your most trusted Little Black Dress, or your sharpest black suit. If you pair that look with your boldest red lipstick, you'll probably feel like your most fabulous self. But again, New Year's Eve is for aspirations, hopes, and dreams. And do you really dream big if you're wearing the outfit you've been sporting all year long? It's time to put the "new" in New Year's.
This season is all about amazing fabrics. Velvets, mesh, metallic are all en trend! And to make fashion even more delicious, designers are experimenting with appliques. Head to any fashion-forward store, whether it's Holt Renfrew or H & M, then reach out your arm out and you'll find something interesting to wear. That's how dynamic the winter fashion season is right now!
When we found this sparkly number, it screamed "Happy New Year's!" louder than Anderson Cooper when the ball drops in New York City! A dress this flashy and fabulous requires very little by way of accessories.When it comes to cocktail attire, you have to avoid gilding the lily. The best way to achieve that goal is by toning down the colour palette with your accessories, shoes, and makeup. Meghan finished off Lavinia's dress with a nude glitter pump. Mel brought out the purple undertones in the dress by applying a mauve lip and an equally glittery mauve eye. The shoes and shadow both had sparkle, but we avoided the glitter from being too distracting by sticking to a neutral colour palette. Hairstylist Olivia kept Lavinia's hair simple with just a bit of texture and volume on top but sleek down the sides. With a look this bold, you'll be gearing up for an unparalleled New Year's Eve.
So, You're Going To A Gala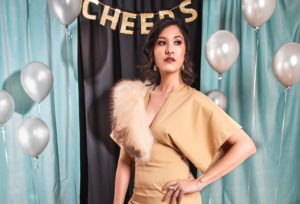 Galas are the best. Everything is fancy and everyone is fancy. You get to drink champagne and eat tasty things like miniature puffed pastries. There will probably be a live band and dancing. Best of all, you can always find a cozy corner to talk to that someone you have your eyes on for a midnight kiss. Galas for New Years Eve are great because you have double the reason to go all out on an outfit. And that means it's time to up your fashion game!
Going all out doesn't mean garishness. In fact, gala aesthetic is all about simplicity. You'll want to look for clean lines, interesting cuts, and simple accessories with a hint of luxury. Remember, you want people to see you in the outfit, not for the outfit to drown you.
Jen is wearing a long gown in pale gold with a deep slit up the middle to show some leg and an equally long slit down the chest to show a sexy hint of cleavage. The sleeves are exaggerated and lend an alluring visual of volume. To give the outfit depth, Meghan paired it with a faux fur accent stole and demure pearl drop earrings. Olivia balanced Jen's hair by adding curl and height, but allowed the dress to shine by pinning it up in the back. Mel decided to keep Jen's skin dewy and fresh, with a seductive smoky eye. Mel finished off the look with a lip deep nude tone to compliment Jen's complexion. Achieving this gala look allows you to be inviting without being overpowering and will take you through the evening from one year to the next.
Whether the party you are attending features cocktails or takes place at a house, we hope this article has given you the inspiration to put together your best NYE look yet!
Happy New Year!
Credits
Creative:
Art Director: Kaley Ames @kaleyknows_
Photographer: Farrell Rafferty @farrellinlove
Makeup Artist: Mel Fortin @ehmuslify
Wardrobe Stylist: Megan Hamilton @meggwin
Hairstylist: Olivia Lozano @livhair_lovehair
Models:
Jemuel Roberts @j3msings
Lavinia Tanzim @lavinia_tea
Jennifer Chung @jilyeong