You guys, what was that? I could literally write a Cultural Studies doctoral thesis on the three-hour premiere of The Bachelor. The premiere featured multiple proposals (from fans, not contestants), multiple beauty queens, and basically every Bachelor Nation alum ever. I'm only a human woman, so I can't distill all the events of last night's episode into a mere 800 words of copy, but I'll try my best. I am a reality TV recapping professional, after all.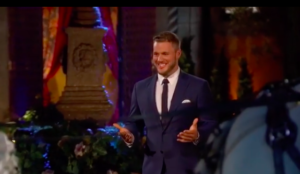 So, Colton Underwood is our titular Bachelor. He's the 23rd man to have this title, but he's the first virgin, a fact Chris Harrison reminded us of at every opportunity using a range of puns so cringe-worthy, I cannot repeat them here (I do not want to gag). Yes, we get it, Colton, the 26 year-old former NFL practice squad player, has never had coitus. May we please move on? Plenty of people end up being virgins into their twenties for a variety of reasons. It's not weird, and all the virgin-shaming is really icky. Colton's not waiting for marriage, but rather claims to be waiting "for love." That's as good a reason as any not to engage in nookie, and quite frankly, what does it matter to us if he abstains from penetrative sex? You do you, Colton!
This season, Colton was given thirty lovely ladies from which to choose, which is markedly more than the 25 most bachelors receive. I suppose Colton somehow curried favour with the ABC brass? Or maybe they figure every additional lady makes it that much more likely he'll finally get laid? It's quite obvious the execs are salivating at the ratings a Fantasy Suite deflowering would bring.
Anyway, the batch of ladies competing on this year's Bach are pretty par for the course for the series. Only a couple were over thirty, and most of them were twenty-three. At thirty-two, I'm old enough to have babysat most of these contestants in high school.
Now, I would be remiss if I did not discuss Bri, the contestant now infamous for faking an Australian accent. Bri justified this falsehood as a way to "stand out," but by the end of the evening she was back to her normal American accent. I really wish she'd gotten more mileage out of that gimmick! Where Colton is concerned, I now wonder if he has ever heard an Australian accent before? Because after spending all of seven days in Sydney for work a couple of years ago, I can tell Bri's Aussie accent was not convincing. Anyway, Bri, a model, is obviously there for the Insta followers, so who cares if she decided to deceive Colton? I doubt she's actually wants Underwood to put a ring on it…
In other news, we already have our villain for the season, Catherine, who is a professional DJ. Our girl showed up with her dog, then brazenly informed Colton he would be looking after the pup for her entire tenure there. It was a bold move, but what came next was a true power move; Catherine stole Colton away to talk to her a record FOUR TIMES at the cocktail party. Her audacity had other contestants fuming, lamenting about how she took time at their expense.
Colton and Catherine didn't really vibe, even despite all the time they spent together. However, producers obviously couldn't pass up the opportunity to bring the drama, so this season's villainess gets to stay for now. Yay!
Not only do we already have our bad guy, but we also have our requisite sob story. Little Demi is an adorable girl in her early twenties, whose mother is sadly serving time in federal prison for embezzlement. Conveniently, her mom's set to be released just in time for Hometowns, so obviously Demi makes it to the Final Four. Why on earth would ABC pass up that golden opportunity to exploit a telegenic but dysfunctional family for ratings?
The winner of the coveted "First Impression Rose" was Hannah G., whose job is listed as "content creator." This is code for "She has 80,000 followers on Instagram and does sponcon sometimes." To be fair, Hannah G seems sweet enough. If she can make money from taking bikini selfies on the beach, more power to her! Live your best life, Hannah G!
While she didn't receive The First Impression Rose, my favourite contestant is Caelynn, a beauty queen who came second at the Miss USA contest and won the Miss North Carolina title. She even wore her sash! Curiously, Caelynn was also Miss Teen Virginia, so apparently she's moved around a bit. She purports to enjoy traveling, but definitely wants to settle down and have babies soon, just like Colton. Honestly, these two seem perfect for each other. They have more chemistry than Marie Curie, which is probably why Caelynn earned the first kiss of the season. I'm telling, she's the one to watch! However, not everyone agrees with me. For example, my fiance's favourite contestant was Alex, the woman who dressed up as a sloth.
In an interesting turn of events, Miss Alabama is also a contestant this season, and let's just say she didn't seem happy to have a  rival beauty queen present. You know what that means? Cue up Taylor Swift's "Bad Blood." We are going to have a good, old-fashioned Bachelor rivalry!
Anyway, that's it for this week! I know it's been said a thousand times before, but Season 23 really does look like THE. MOST. DRAMATIC. SEASON. EVER.