Two unique films that offer a similar message: Monsieur Lazhar and Pina
On the surface these two Oscar nominated films couldn't be more different.  Canada's Oscar submission in the foreign film category, Philippe Falardeau's Monsieur Lazhar, tells the story of an immigrant primary school teacher who comes to Montreal by way of Algeria, and takes on the unenviable task of teaching a class whose previous instructor committed suicide.  The students must learn to cope with their difficult new reality, with a new teacher at the helm.  Monsieur Lazhar, played by the talented Mohamed Fellagde must do some coping of his own.  He has left behind a painful past in his native country, and struggles with the weight of personal loss.
The spoken word is an anomaly in Win Wenders' captivating 3D tribute to German dance pioneer Pina Bausch, who died in 2009 just as the film began production.  Each one of the dancers of the Tanztheater Wuppertal, the company which she ran for 36 years, testifies to the force that animated her work – the love of dance.  The few words spoken in the film are in memory of Bausch, told by her dancers; mostly though, we are given performances of her work.  The sequences are beautifully shot, helped along by the creative, sensitive, and un-cynical use of 3D technology.  Nominated for best documentary feature, Pina will most certainly appeal to those who followed her life.  For others who are new to her work, you will be convinced by Wenders's masterful ability to translate dance into cinema.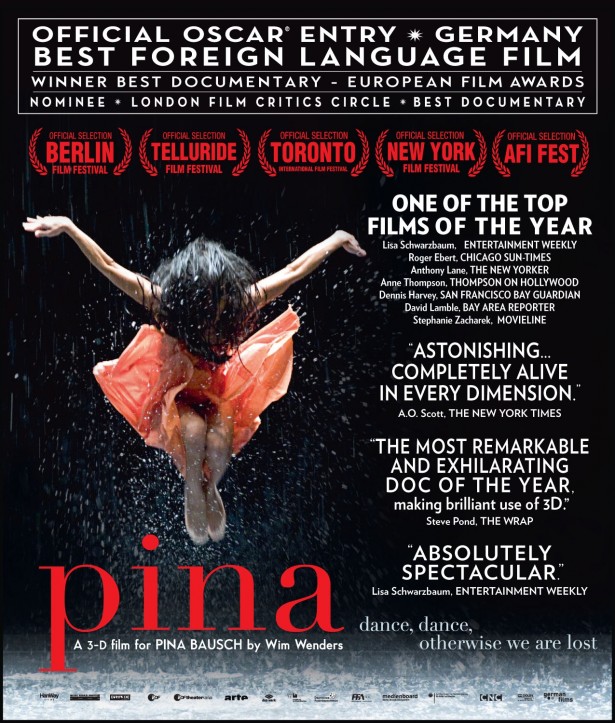 The two films share common elements. They illustrate, demonstrate, and celebrate the lives of two characters that live on society's fringes.  In Monsieur Lazhar, we are presented with an Algerian refugee attempting to navigate a xenophobic Montreal, and in Pina we learn about a choreographer who developed a style of interpretive dance that could only be described as a sort of anti-ballet.  Both faced the challenge of broad acceptance.  Each faces hardship with a singular purpose.  Love.  Love for their craft and for those they teach.  Both film-makers poignantly demonstrate that those who incorporate love into their livelihood see the spoils of contentment.  Whether you're an unqualified teacher with an unorthodox style, or a choreographer questioning boundaries, if you love what you do every day, the rewards will outweigh the obstacles put in your way.  And others will willingly accompany you on your journey.
Few films this year depicted love more effectively than these two.  Neither did it in a predicable or formulaic way.  It is for that reason that they are both worthy of your time.