They say as you get older you get wiser. Maybe my newly acquired age bracket explains why I'm starting to notice all of the scantily-clad (or trampily-clad!) women around me.  I can't just blame it on a generational gap or issue because I see this style behaviour on women who are in their 20's all the way up to their 50's! I've always believed you should flaunt it when you've got it but, some ladies should truly consider only flaunting one or two of their feminine "assets" at a time.
Let's break down the tramp factor…
Length of Skirt: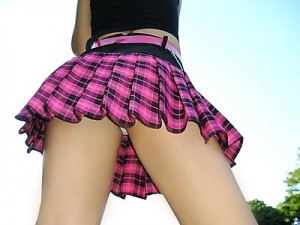 I recently went to an audition to become the host of a new fashion show. I found myself surrounded by women who thought they could have a shot at the opening by sleeping with the casting producer, too bad she was a woman. What happened to being 'tastefully' fashionable? Ladies if you have to put your hands in your lap to hold your skirt down, it's too short! A friend who is 5'10" made a good point that you can't necessarily do the 'hold your hands at your side rule' because if she did her skirts would be as short as her underwear!
Remember to consider your audience. If you love the short-shorts and your cheeks are hanging out don't be surprised if they get pinched by the guy in heat, or if the ladies next to you react with distaste.
Cleavage: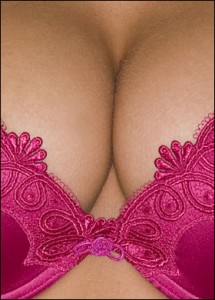 Even smaller-busted women love to see women blessed with abundance, but, if it's like driving by an accident that you can't stop staring at, then it's just too much. For the workplace, it's better to keep it under wraps but when going out for fun its okay to show a couple inches of décolletage.  The sheer top is a trend but it works best on smaller-breasted gals and certainly not for business meetings.
Too Tight: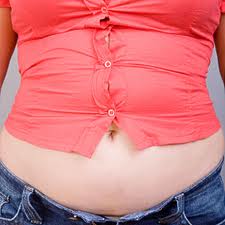 Just because you are thin your clothing doesn't have to look painted on. Overly-tight clothes can send a message that you are open for business and looking for customers. Fitted is flattering but cutting off your circulation with underwear lines is not. Also, wearing trousers or jeans that cut so tight across your waist that you end up looking like a flesh-toned ban muffin is not sexy and should not be permitted.
I think that the important thing to remember is that no matter what your age, if you are second-guessing an outfit or your friends are saying, "'Oh (pause gasp) you look nice." Go change! Style is about being confident, comfortable and above all CLASSY!