A couple of Hot Doc gems – My Thai Bride and Tilman in Paradise
Each September the Hollywood elite invade Toronto in droves.  The Toronto International Film Festival (TIFF) has created quite a name for itself; it is often regarded as the world's premier film festival.  And although the movie viewing component of the fortnight is always fantastic, the party scene and star gazing elements somehow tarnish the artistry of it all. Kim Kardashian and Paris Hilton don't exactly pull into town in order to pontificate on their method acting abilities.

The Canadian International Documentary Festival, known as Hot Docs, is the 'Anti-TIFF.'  You won't wait 6 hours in line to see Angelina Jolie portraying a female assassin…..again, but rather, to the delight of your gray matter, you can pick up a ticket to see 'Big Boys Gone Bananas', a story about Dole's punitive treatment of its banana farmers.  Clooney's publicist won't hock $500 tickets to attend a fundraiser to save the duck-billed platypus, but you could snag a seat to see 'Mama Illegal, a narrative about Moldavia's export industry of women who end up working abroad illegally as cleaning ladies.  Since its inception, the theme for this festival has been a celebration of substance: I have always left the theatre having learned something. That is unless you attend James Franco's entry this year, in which case you do not pass go but rather leave having lost 20-40 IQ points and wanting to clock the guy.
This past Saturday I took in a fantastic double bill:  A 60 minute story called My Thai Bride, which was preceded by a 28 minute short entitled Tilman in Paradise.  In the latter film, by Julian Vogel, a middle-aged, ordinary looking German bartender named Tilman seeks tenderness in the seedy underbelly of the sex trade, namely a brothel called Paradise.   Being convinced that he's unable to interact with women on even the most basic level, he courts the working girls hoping to find one who might offer more than sex.  Tilman finances his exploits using an advance on his inheritance from his parents.  Nearly all of his money has been withered away.  In My Thai Bride, Australian film maker David Tucker introduces us to a British salesman named Ted who loves his trips to Thailand, notably to enjoy the sex tourism.  When he meets Tip, a 'bar' worker, she's kind, helpful, attentive, and most importantly, in need of him.  Within months Ted has moved to Thailand, liquidated all of his assets, financed a pig farm, and built them a house.  Ted's hubristic error is a lack of knowledge around Thai property laws, which restrict foreign ownership. Ted, being a trusting lad, puts all of his holdings in Tip's name.  You can telegraph where this one was headed; needless to say Ted ends up back in the UK a broke and broken man.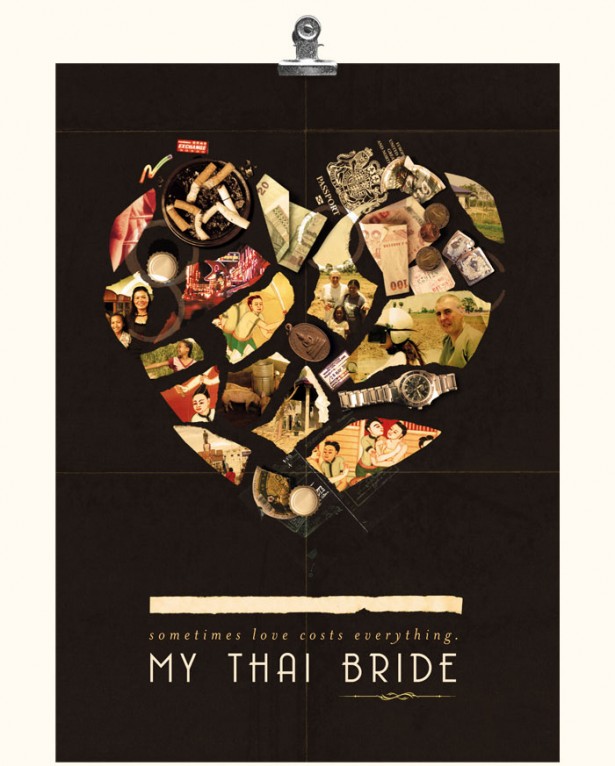 Both Tilman and Ted are sad, tragic figures.  Neither has had much success with relationships; both failed to find conjugal bliss within their respective cultures.  In the case of Tilman, the more we hear him speak of wanting something more than just sex from his prostitute companions, the more we're made painfully aware of the concerning complexities preventing this from actually happening for him.  Ted not surprisingly failed to realize that a young single mother who caught his eye initially for sex, and was accustomed to making $4 per day at a plastics factory, would choose his money and the stability it could buy, over love in order to ensure a better life for her family.
Take in this festival.  The stories are compelling, unique, thought provoking and diverse, while the crowds are passionate yet a little sparser than the star gazers who populate TIFF.   A cautionary note: should you bring a date, and particularly someone you've just met, you may want to avoid the 'Thai hooker' theme.