"The Gift of the Magi" is a popular Christmas story about sacrifice and true love.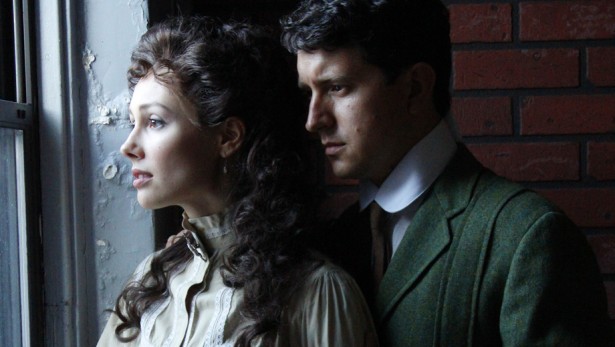 The story begins with Della Dillingham Young staring down at the $1.87 in the palm of her hand. It's all she had to buy a present for her beloved husband, Jim and the next day was Christmas. Faced with this predicament, Della burst into tears.
Della and Jim lived in a shabby flat and were desperately poor. Despite their unfortunate surroundings, their life was rich with the love they had for each other.
Once Della recovered herself, she went to a mirror to let down her hair and examine it. Della's beautiful, brown, waist-length hair was her pride and joy. It had taken her a lifetime to grow and people took notice of it wherever she went.
Della knew that Jim's pride and joy was his gold watch. Thinking of Jim's watch, Della came up with an idea and bundled up to head out into the cold. Leaving the flat she briskly walked to Madame Sofronie's hair goods shop, where she convinced the proprietor to buy her hair for twenty dollars.
Now she had $21.87 cents!
With her new funds, Della was thrilled to find Jim the perfect present: an elegant gold chain for his watch. It's twenty-one dollars, a fortune for the couple, but even so she eagerly purchased it.
Thrilled with her gift for her husband, Della returned home and tried to make her now-short hair as attractive as she could.
At 7pm Jim arrived home to find Della waiting by the door and then stared intently at her, not able to understand why Della's hair was gone.
After a brief moment, Jim snapped out of it and gave Della her present, explaining that his reaction will make sense when she saw it. Della opened the present only to burst into tears. Jim had given her the set of fancy combs she had wanted for years, only now she had no hair for them.
Jim tenderly nursed Della out of her sobs. Once she had recovered herself she gave Jim his present, holding out the watch chain. Jim smiled, falling back on the couch and explained that he had sold his prized watch to buy her the beautiful combs.
They had both given up their most prized possessions in an effort to bring to the other the best possible Christmas present.
The beauty of the story of course, is that they both sacrificed what was most important to themselves, for each other. In other terms, both were complete acts of selflessness.
This time of year is especially about the act of love and sometimes-even selflessness; the act of sacrificing ones own interest for a better or higher purpose. That may mean sacrificing your time to work at the food bank or giving of some of your hard earned money to a charity.
In relationships it can be as small as that thoughtful, homemade present created with love and effort. Or, as in the case in this story, giving up something of personal importance to bring greater joy to the person that we love.
Sometimes selflessness can even mean unconditionally letting him/her go because it may be best for them, although it doesn't feel best for you at the time.
No matter what the manifestation, the Christmas season is about showing one's love in ways that we may not at other times of the year.
Merry Christmas from Eligible Magazine.