Sometimes you don't need to go far from home to find some of the most relaxing and serene places to unwind and recuperate after a long week or couple of weeks. This dawned on me recently while I was attending a conference in Esterel, Quebec which was being held at the Esterel Suites Spa and Lake Resort. This was in fact not the first time that I had stayed at this property but they have recently completed a series of very successful upgrades and I quickly noticed upon my return to the hotel, the extra bit of service that they have managed to infuse along with renovations. This prompted me to think further about the concept of a "stay-cation" versus the long haul, fly across the world adventure and how the modern day individual with limited time can marry the two in a beautiful ceremony of exploration and bliss.
Esterel is a very small town in the Laurentides region of Quebec situated on Lake Masson. It takes approximately an hour to drive there from the Montreal airport and about an hour and a half if you are downtown region therefore it is easily accessible for a long weekend or even a night away from home. The drive is easy and there are plenty of stops along the way to pick up necessities such as wine and of course fois gras and baguette, when in Rome, or Quebec….
The Esterel Suites Spa and Lake Resort has two sections the Evolution section and then the newer section of the resort which is Emotion section. Both sections come with rooms that are equipped with a kitchenette, a double sided glass fireplace, soaker tubs and a balcony. I strongly suggest asking for and upgrading to the bottom level rooms, as they contain a private outdoor hot tub on the patio and are well worth the few extra dollars. Everything at the Esterel resort is very reasonable priced which is part of the appeal showing you that you do not need to always break the bank to get a rewarding and fulfilling experience. There is of course a full service spa on site and there is a general aura of serenity throughout the whole property with most patrons walking around during the day in their robes with a cocktail. With the new addition of the outdoor heated pool and the Nordic Spas which contain built in fire pits, there is no shortage of warm soothing water to lounge in. For the warmer sunnier days there is direct water access into the lake which is great for the kids and younger guests to splash around away from the crowds. If you are feeling active during your stay then you can make use of the golf course, fitness room or outdoor tennis courts. Having a lot of options in my opinion is great but if you choose to do nothing and just enjoy the comfortable room, beautiful lake view and delicious food then I would say you are right on track for rejuvenation.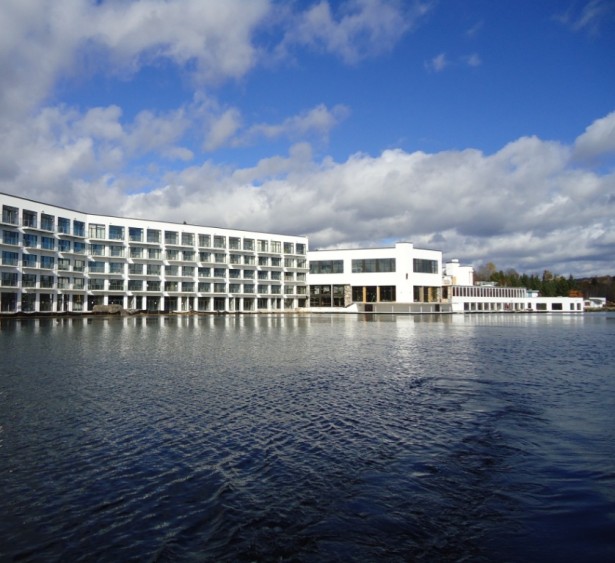 There are three different dining options available on the property but since I had a vehicle and I am always the explorer I decided to venture into the small town St-Margeurite which contains an ice cream shop a few French bistros and a Wharf restaurant among other things. Upon recommendation from one of the locals we decided to try a very well known French restaurant called Le Bistro de La Champlain. If the food itself is not impressive enough, and I can guarantee you that it is, then the extensive wine cellar on site will surely please your visual senses. The staff are beyond knowledgeable about the wine on site and are more then willing to give you a private tour of the cellar which is located on the lower level directly below the restaurant. The menu and experience is full of the French flavour that you are undoubtedly searching for on your vacation.
When you have decided to leave Esterel and head back into your busy lives then I implore you not to miss what is arguably the most quaint breakfast experience in al of Quebec. About twenty minutes away on the way back to Montreal there is a small town called Sainte-Adele where you will find a place to stop for breakfast or brunch called "Boulangerie La Farandole". Not only do they serve breakfast until
3pm
everyday but they also are a full service bakery making fresh breads, pastries and desserts on site so that the tempting smell of baked goods is permeating throughout the air while you are eating your fresh and locally sourced meal. They have gone to great lengths to ensure that you have the feeling of being in a small bistro in the hills of France even requiring the staff to wear white bonnets and old fashioned dress. The food will leave you feeling like you ended your perfect weekend getaway on a high note and will prepare you for the week to come, as best as possible.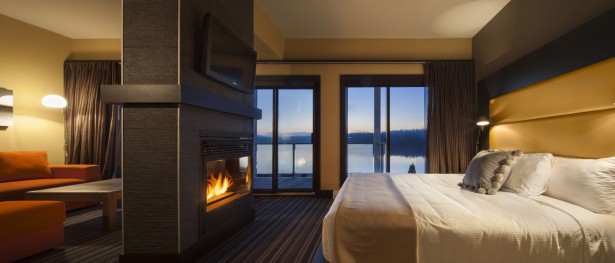 Of course if you are reading this and thinking that you are nowhere near Montreal or even the province of Quebec then rest assured that there are plenty of these types of getaways that are a short distance outside of the city just waiting for you to visit and de-stress. Look for a place with a nice view or a nature setting if possible but if not then just look for a place with a lot of amenities and services so that you can give yourself some much needed spoiling while on site. As I had mentioned previously you do not always need to look across the globe for a memorable travel experience.