What I love about being a performer: It is the best vehicle of self-expression! For someone like myself, there is no other way. I love how being on stage allows me to channel different characters, which are really an expression of different facets of my personality. There is nothing more rewarding than sharing my love of dance with an audience, and the sense that it has stirred up an emotional response.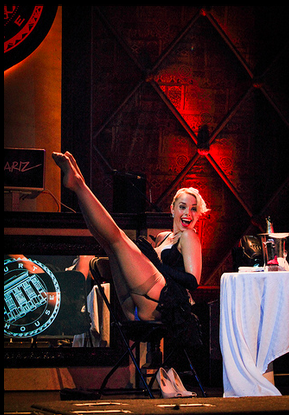 How a life in dance has impacted me: I never had a choice in the matter, it's what I was born to do. Apart from the physical benefits of dancing, being a dancer has taught me discipline, perseverance, patience, and an appreciation for hard work. I have applied those skills to every aspect of my life, professionally and beyond. I feel that it has given me the skill set to achieve success, although I am forever thinking I could do better and do more. I am trying to learn how to take a moment to stop, think, and really appreciate the things I have done so fa How dance & performing can impact your inner being: For one thing, there's a rush that you experience whether in class, in rehearsal or on stage that makes you feel so energized and content. I think that being a performer can breed confidence because you are constantly being challenged by obstacles for example, the competitiveness of the industry, your physical limitations being tested, having to juggle at least 2 jobs so that you can support your career, and trying to educate people about the importance of the art form and why they should support it. As I get older, I am becoming more confident in my own skin, and I have learned that you can't take yourself too seriously but it pays to be serious about your career. People used to ask me when I would quit bartending and get a "real job". Well, I'm 36 years old now, producing and performing in my own shows and also studying to become a sommelier, oh and becoming a mom in 3.5 months.
So who cares what people think, I am happy!
One last thought: I have learned that age is just a number; it's how you feel inside that matters most. If you listen to your gut, stay true to who you are and want to be, you will shine. When you find the thing that really moves you, you shouldn't let anything stand in your way… Life is too short to not enjoy what you do every day.
You're DivaGirls, you know what I'm talking about!