With the new year in full swing so many people are concerned about dropping unwanted weight and achieving fitness goals.  Although these are wonderful goals to work towards so many of us neglect our mental health.  According to The Mental Health Center of Greater Manchester:
Statistics show that; 1 in 5 people will experience a mental illness sometime in their life. For some, it may be stress (Yes, stress is a form of mental illness). Five of the top 10 illnesses contributing to disability or premature death are mental illnesses. Depression is the most prevalent and is expected to become the second most disabling illness by the year 2020.
With January being Mental Wellness Month, now is the best time to start paying attention to your overall well-being starting with your mind. Gabby Bernstein a Motivational Speaker, Life Coach, and Author knows first hand what it means to create a healthy mind.  Bernstein shares her tips for mental wellness in 2016.
Gabby Bernstein's Tips: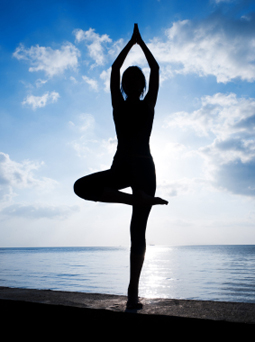 Take a ME break! Commit to a ME break at least once a week. Take time out to focus on yourself. This is a powerful habit to create early in the year. Need some suggestions? Take a long yoga class or prepare a nice meal for yourself.
Get creative. This year, I commit to spending more time painting. This creative hobby takes me out of my daily patterns and ignites my inner spirit. Pledge to engage in a creative project or even take a trip to the museum. You'll find that time spent in creativity heightens your happiness and gives you more energy for the other areas of your life.
Sit back and receive. I work hard to balance my go-getter mentality with my "sit back and RECEIVE" approach to life. This year, welcome stillness and receptivity. Begin a meditation practice today.
READ MORE: Which Yoga Is Right For You?
Get Calm How-To:
Gently press your thumb against your pointer finger, then your middle finger then your index finger then your pinky finger.
When you touch your pointer finger say: PEACE
When you touch your middle finger say: BEGINS
When you touch your index finger say: WITH
When you touch your pinky finger say: ME
Breathe deeply as you say each word. Go as slow or as fast as you'd like. Use this technique on line at the bank, under the desk in an office meeting, or in the middle of a fight with your lover. This technique will get you through all kinds of crazy emotions and help you release resentment fast.
READ MORE: Stress Is Not Sexy
Choose a new thought and move with it!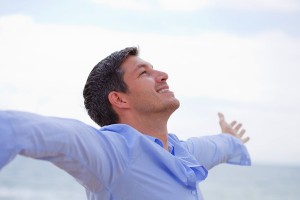 Saying positive affirmations can be a great way to shift your mood and release stress. But there's nothing more effective than combining your new thoughts with physical activity. I like to use a trampoline. This is an awesome stress buster! I jump on the trampoline while reciting an affirmation. So if I'm feeling stressed, I'll jump on the trampoline and say, "I am calm, I am balanced." Ten minutes a day with this activity can help me release all of my stress and move through my day with grace.
You can bring your affirmations to any kind of physical activity. Swim, run, walk, dance and repeat your affirmation, "I am calm, I am balanced."