By: Laura Townsend
To shave or not to shave, that is the question many men were faced with December 1st when Movember came to an end. Shaving for most men is a part of their daily skin care regime. Whether you prefer a little scruff, mustache, full on beard or your face smooth as a baby's butt, proper skin care is essential to maintain young radiant skin and skin regularity.
Facial hair may look great from a far, but I have had the pleasure of consulting many men with full facial hair and let me tell you, what is underneath is not pretty. Dry, cracked and inflamed skin just screaming for some TLC. Skin care is often neglected by men. A quick shave and a rub of cream usually gets them through the day. Dry skin, ingrown hairs, razor burn, acne and aging skin are all common issues I hear from clients. I find most men do not pay attention to is the quality of product they are purchasing and what ingredients are in it. Conventional gels, lotions and creams are filled with things such as fragrances, parabens, preservatives all of which irritate and dry the skin out.
My advice- Don't settle! Step out of your comfort zone and work with your skin, not against it!
Stash or no stash, a natural pre and post shaving oil is just the thing to nourish, repair and protect your handsome face. Face oils are no secret to our friends across the pond; we in North America are slowly opening up to the idea of applying oils to our face. Incorporating a good quality, natural and organic oil into my routine has worked wonders for my skin and I'm excited to share Olie Biologiques new "Whisker Oil" with you!
100% naturally sourced ingredients with 65% being organic; this oil helps to prep the skin for a cleaner, closer shave with less irritation. After shaving the skin with a natural shaving foam or soap, re apply to soothe, nourish and protect the skin!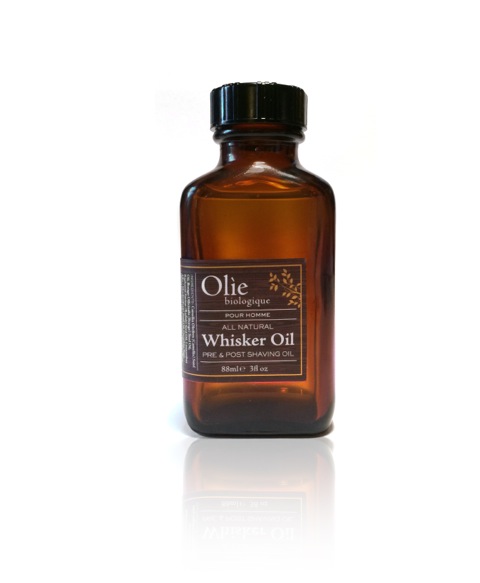 Why oil?
• Along with many therapeutic purposes, oils help to regulate not only your skins pH balance but the oil production from your skins sebaceous gland helping to prevent overly dry or oily skin.
• Your skin cell wall needs essential fats such as Omega 3 and 6 to maintain smooth, supple skin. Essential fats from oils help to puff out fine lines and wrinkles.
• Oils are loaded vitamins and minerals which nourish and replenish the skin and are a great source of antioxidants which combat oxidation damage and prevent signs of aging.
• Oils such as Aloe Oil, Pumpkin seed oil helps with inflammation and treat various skin conditions.
• Many oils such as Meadowfoam Seed oil naturally preserve and stabilize themselves, cutting out the need for synthetic preservatives.
• Oils such as Black Seed Oil help protect skin with its anti-bacterial properties and manage acne.
How to convert?
If you are not ready to jump right in with face oil, start by adding a few drops to your current moisturizing cream or shaving cream.
As always, patience is key. You may not notice results after the first few shaves, be consistent!
Olie Biologique's new "Whisker Oil is available at The Detox Market, $48.00
A self proclaimed Lifestyle Renovator, Laura has helped hundreds of people establish long term healthy lifestyle and dietary habits. Her focus has been helping people "Detox their life", educating clients on eco-friendly products that will reduce the toxic load going into their bodies helping them achieve optimal health and natural, radiant beauty. Visit her online at www.lauraashleyimages.com or www.thedetoxmarket.com.