My, haven't the fashion tables turned! What was once looked down upon, judged and laughed at in regards to men's fashion, this Spring/Summer for 2014 has breathed new life into some of the most frowned upon trends over the decades. Check out below 7 fashion statements, and in some cases shocking statement pieces or tips that have been given a second chance to redeem themselves and maybe even gain a little swagger. This article is a great example on how fashion can have a full circle moment and prove that with the right design, presentation, marketing and hype, the minds of so many naysayers can become lovers once again.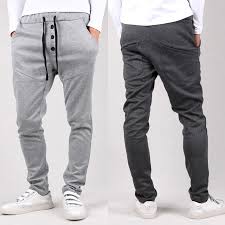 Sweat pants – This statement look is no longer reserved for men who have given up on how they look anymore. The days of just throwing a pair of sweat pants in the cart without trying them on are over. Designers are now using soft fabrications and detailing in a more slender silhouette to be worn not only for comfort but also to make a fashion statement.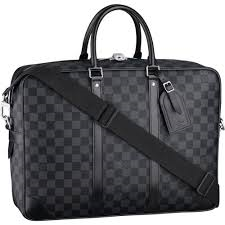 The Man Bag (Formerly known as the "Murse") – Gentlemen, the days for all the men out there who hung their heads low and felt the need to stuff every single pocket on their bodies to capacity just to avoid the "Man bag" are over. Finally, the "Man bag" has gained some real presence on the runways everywhere, so that you can put a stop to buying the most generic looking bag that really ends up just being a fashion eye sore in the long run. It is no longer just reserved for the super confident/fashionable gentlemen who doesn't care what people say or think about him. It is obvious from street wear to the runways that all brands high and low will provide you with an assortment of fantastic silhouettes that will carry your lunch, iPad and gym gear.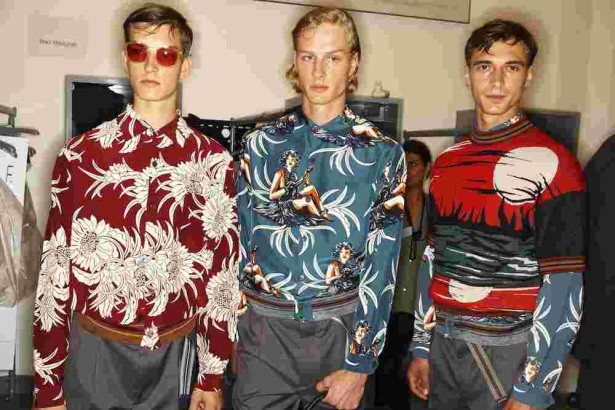 Hawaiian shirts – This particular style of shirt has really been an offence to the eyes for so many decades. Typically you will see tourists with the mentality "when in Rome" would go to the nearest "Tommy Bahama" location and purchase the blockiest lightweight cheesy printed Hawaiian shirt. This however still exists but some designers for brands such as Prada have revamped the typical Hawaiian shirt and made them more slender and cool looking by using stronger more edgy prints and colors.

Jesus sandals – I'm not going to lie, in the past I have been guilty of joking and making fun of my male friends who wore their strappy Jesus sandals. However, I will admit this season I have become a convert! Definitely check out the brand "Kurt Geiger" to either purchase or for inspiration.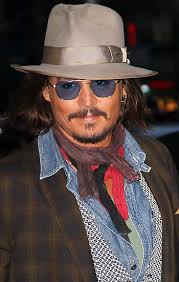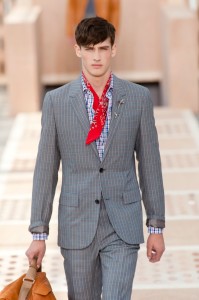 The neck bandana –Who would think by tying a handkerchief as a scarf around your neck could aid you on your journey to becoming a participant in the cutting edge of fashion. By styling your bandana in the following 3 different ways, not only will you be achieving a very seasoned stylish look but also will bring back some nostalgia of places travelled in years past. 1) By taking your handkerchief and tying a knot at the back of your neck you might resemble a bandit from the old west. 2) Tying a side knot with your bandana around your neck you could resemble one of the long lost members from the band Oasis or the super stylish men walking the streets of Italy. 3) By hanging the bandana untied around your neck you will channel the brave sailors about to set off for sea. Now before you start rolling your eyes and start thinking this woman is crazy, all I'm going to say is "Cary Grant and Johnny Depp!!!! embrace the bandana!!" You can't argue with that.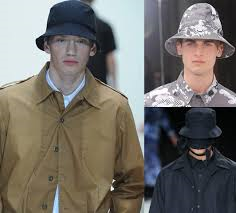 Bucket hat – Truth be told, I would run a mile or definitely would throw away this particular style of hat if a guy I was dating picked me up sporting it. However, this particular silhouette is not to be scorned or reduced down to the sole ownership for the elderly living in senior homes. For those who really appreciate the "Bucket hat" it is back in full force and wear it with pride.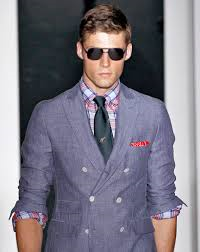 Lastly, pushing up your blazer sleeves – Move over Don Johnson! This styling tip is no longer reserved for "Miami Vice" re-runs. There is actually something so effortless and sexy about a man who wears a light weight blazer and pushes up his sleeves to add a more relaxed casual feel.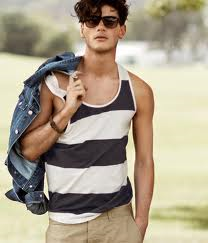 Tank tops – Even though I have had some frightening encounters with men showing too much skin when sporting a tank top, (My past article, "Avoid Falling Victim to Your Own Fashion Crimes") it is a great layering piece to wear under hoodies or blazers. If you are feeling super adventurous you can find a huge selection of tanks in prints and brights that can not only be worn as a layering piece but all on their own. So gents, I suggest you hit the gym and spend a little extra time on the upper body!
As I'm sure you can sense I am not a huge fan for all the above fashion statements. However, in the spirit of second chances, I give my support for the underdog and what was once a fashion blunder will now be considered a fashion stealer.
To all the haters (including myself) from years past, "Eat your heart out" lol