Have you ever had a chance encounter?
A moment?
Whether it's a stare, a feeling of recognition with a complete stranger or an unforgettable summer fling that you never saw again; but yet that moment or short period of time has left an imprint on your life that you will forever remember. Here is something for you to think about.
An unforgettable man utilizes all three senses to create attraction.
I think everyone has had an experience with someone throughout their lives where time stood still and created a memory to last a lifetime. I think a lot of people would agree that summertime has a majestic feel to it that most people believe anything can happen. People are in an unusually good mood and it's the most social time of the year, because everyone feels guilty just staying in and doing nothing after they complained for months about having no choice but to hibernate inside because the winter was so hideous.
I was recently sitting with a group of friends on a patio enjoying another amazing summer night and we got to talking about some of the most impactful moments they have had with a particular man during their past summers. Moments that stuck in their minds over the years. Within each story, I noticed that every single person could give me a detailed description of that very moment as if they were reliving it all over again and we were watching it all happen for the second time. What I noticed after hearing various stories, was that the most impactful moments appealed especially to three particular senses of the five. This of course got me thinking that men can really leave their mark without saying anything at all. The senses, touch, smell and sight (and a combination of all three), can create a memory that will haunt you completely for a lifetime!
With that said, I thought why not suggest a summer look that is a real crowd pleaser and products that will appeal to the below three senses: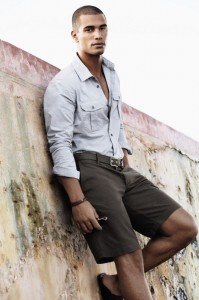 Sight – Every month I am providing fashion forward trends that will keep you current and on your fashion A-game. However, sometimes the most impactful and memorable looks are the moments when you are comfortable and not trying too hard. When you just throw on a pair of your chino shorts,boat shoes and a simple v-neck tee or button down shirt with a pair of wayfarer sunglasses.
Touch – Skin care is not just for women! Gentlemen, you need to feel soft and not scaly. I suggest a moisturizer by Kiehls so your person of interest cannot keep their hands off of you.
Smell – The scents "Summer" by Burberry or "Light Blue" by Dolce & Gabbana for men – these are basically lust in a bottle and you will have admirers falling all over you.
So I pose this question to all you gents out there, what do you think out of the above three senses is your biggest take away that you would leave as your mark? If you are unsure, then I suggest you think about it!