What do we give people who essentially have everything? And how can we make it remarkable without breaking the bank? Whether you are shopping for the holidays or any other days, here is a useful guide to make it count.
Think of a person you want to gift right now and ask yourself: What is the purpose of my gift? (Choose one or more of the following):
• Make someone feel special
• Commemorate an occasion
• Communicate gratitude
• Show you are thinking of them
• Gain brownie points
• Spoil someone you love
• Take your relationship to the next level
• Offer a parting gift for good karma
There are 2 ways to guarantee great gift giving:
1. Give people something you know they love.
2. Give people an adventure. Something new and undiscovered that inspires happiness and a sense of being special and alive. Introduce them to something (or someone new! – likely something you love or something they would love based on their character).
We don't have to tell you that statistics show that people are more likely to keep something sentimental that has a personal touch than a generic act of kindness. Re-gifting has become too popular – be the one to break the trend! Think of all the cards you receive. The ones that are most meaningful have a special hand written message or a photo or something that signifies genuine human touch. From now on, never be the person who just signs cards: "best wishes, Larry". Get connected to your "why" and write something meaningful.
People love to be inspired and it's fun when someone takes the risk of creating an adventure. Whether it's music, tickets to see something new, exotic flavours bottled, boxed or as a destination, a piece of clothing, something creative or homemade, a special memory in a frame, even a pair of happy socks or more….
Whatever you do, inspire people by making sure your gift is filled with: Purpose, Passion and it's Personalized.
Give with Purpose: Gifts represent who you are. You are in essence giving and sharing a piece of yourself. Who are you?
Give with Passion: What lights you up and how can you share it to ignite others? What are you passionate about and how can your passion inspire others? What does the gift you give say about you – and what does it say or contribute to the person you are giving it to?
Give something Personalized: Gifts can be transactional – and although appreciated, without deeper meaning, they won't ignite the emotional spark that makes them memorable – even transformational.
Think about WHY you are giving this gift and HOW you want it to add to or commemorate the receiver's life. Inspired connection guaranteed!
Next: "Pack it" with Inspiration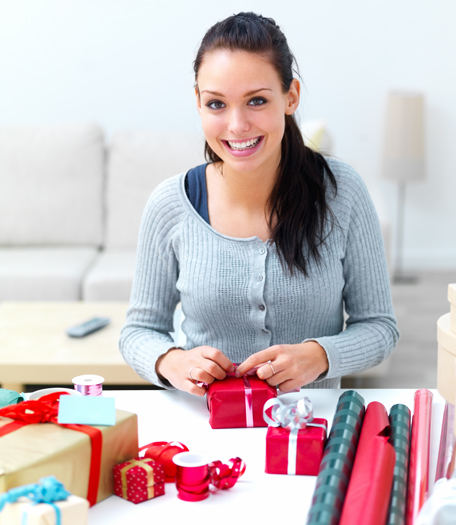 No wrapping: If you have no time at all to wrap your gift. Tell the receiver you have something for them wrapped in eco-friendly packaging (i.e. none). Ask them to close their eyes (important) and when you bring it out, say "surprise".
Wrapping: Gift bags can be too expensive, the cheap ones can lack punch and regular wrapping paper is so much work. Go to the fabric store and choose an inspiring material that works for all occasions – unbleached cotton, flannel, black satin, red velvet – whatever reflects you (look for what's on sale). Buy ribbon. Have it on hand. When you want to buy a gift, cut the appropriate amount of fabric, make it into a pouch, tie it with your ribbon. Voila! Personalized unique and meaningful! You can also adorn your gift with a flower, raffia, a balloon, candy, your child's hand stamped on it, a lipstick imprint or anything that makes it feel special and more thoughtful.
If you give gift cards or certificates or money – wrap them in a picture frame, a box of chocolates or, a trashy novel or whatever would make the experience of consuming what's on the card more thrilling, humorous or meaningful.
Impromptu Inspiration: If you have no time to do anything or you just found out about the special occasion and you are at a restaurant or bar: privately ask the server to bring a special drink or a dessert with a candle and / or a message written on the plate and tell your receiver what this gesture represents. Be the person that makes more toasts!
When you give, make sure you receive the satisfaction of having inspired another person with who you are, not just what you give.
Be intentional, give fewer scented candles and share more light!
Want some great gift ideas for men? Click here.