It's the time of the year again, the one night where love is in the air and you get to celebrate a day with your special someone. Why not be wearing something special to remember the night? I mean it is an excuse for a lady to get the perfect dress and feel glamorous for one night. Don't worry ladies; if you are panicking right now with the perfect outfit for Valentine's Day, I got you! Let's find that dress that will blow his mind away and make you a showstopper.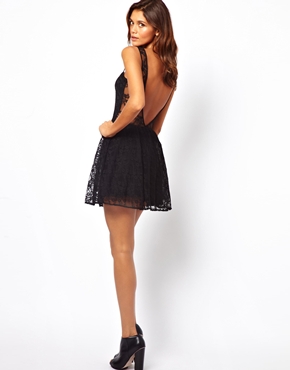 Sexy Back
If you as a woman are not comfortable showing off the ladies but still want to be dressed sexy for the night, do not let that stop you. I always believe teasing is the best thing a woman can do to a man. The best dress to hide the ladies but shows a little sexiness is the dress with the deep cut back. Find a dress that dips in the back in a V to make it seem like you are showing more than you really are. Make sure the dress is comfortable and fitted, you do not want the dress be too big and end up showing way more than you want it too.
LBD
The all time classic that has made it through decades is the little black dress. You can never go wrong with a little black dress because you have the ability to add your own little twist to it. Start off with a black dress, fitted to the body that will accentuate your natural curves. Then you want to add the right amount of accessories like a statement necklace to add the extra glam to the dress. Now you need to find the perfect heels and here you are ready for your date.
  Accentuate your Best Feature
To feel the sexiest is when you dress according to your best features that you want to show off. If you want to show off your legs, wear a long-sleeved dress that cuts off right above the knee. To show off the collarbones, you want to wear a strapless dress and a simple necklace. I know you ladies out there with a gifted bottom; you want to show that off as much as you can. The best dress to show it off it to find a fitted dress that has a side faux wrap on the side that will not only show off the booty, but the curves of your body. Trust me ladies, you will blow your date away.