'Twas a night to remember, as the worlds of wine and media came together to celebrate the debut Charles Smith's wines making their way into Canadian Milestones restaurants. Accompanied by COO, Mark Findlay and Executive Chef, Jason Rosso, we made our way to the private dining room to indulge on some of Rosso's culinary creations.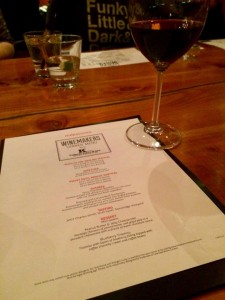 Then Charles Smith walks in. Upon meeting Mr. Smith, I was curious how such a rock n' roller like him had such extensive knowledge about wine and how it's made. I came to discover that this charismatic man is behind several award-winning wines from the Pacific Northwest.  This self-taught winemaker is a true artisan and pioneer in his practice.
We are quick to take our seats and served Mozzarella Chorizo Fritters, which almost instantaneously vanish from the serving plates. Rosso's first entrée, the Spicy Thai Basil Noodles was paired with Smith's Kung Fu Girl Riesling from years 2011, 2012 and 2013. It was the perfect combination of sweet and spicy. The second entrée was the Roast and Carved Beef Tenderloin, served with French Onion Potatoes, and a scrumptious Brussel Sprout Salad. It was paired with Smith's 2011, 2012 and 2013 Velvet Devil Merlot. Magnifico! I mean who doesn't love a good red vino with some red meat, am I right? Dessert was a mini sample of Peanut Butter & Jelly Cheesecake, and Blueberry Tiramisu, along with a big old glass of Smith's 2007 Skull Syrah 'Stoneridge Vineyard.' I am no wine expert, but the dessert followed by the Syrah was the perfect ending to an exquisite evening.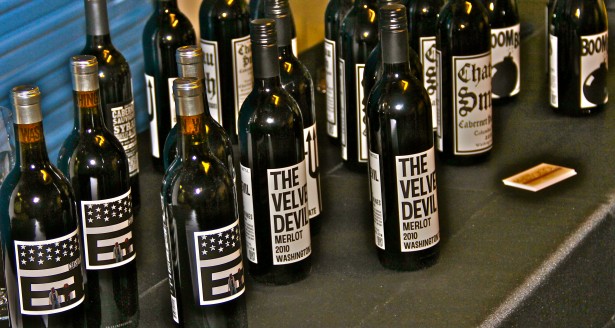 Milestones is known for their impeccable upscale culinary delights, amongst a casual dining atmosphere. They are all about making experiences to remember. Bringing together this extraordinary winemaker, along with surrounding guests with full tummies, creates another special memory for the books. Smith's Velvet Devil Merlot and Kung Fu Girl Riesling will be featured on Milestones' Signature Cellar Menu.
Charles Smith Winemaker Of The Year from Charles Smith Wines on Vimeo.