With spring just around the corner, it's finally time to put away our dark winter clothes and bring colour back into our style! Adding some basic coloured items to your wardrobe like a leather jacket, statement necklace, heels, or a handbag can go a long way, especially with a simple outfit.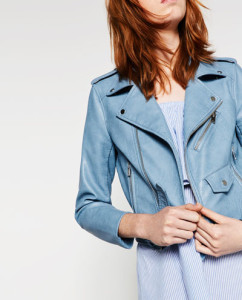 A good leather jacket is a staple item everyone should own. This investment piece can be paired with so many existing items in your closet from a plain t-shirt and jeans to a bohemian-style dress with booties; it's an extremely functional piece. If this is your first leather jacket, I would suggest investing in a staple colour that matches with everything such as black, navy blue or brown.  Once you have a staple colour, then you can consider purchasing a fun bright colour for spring. The opening look for the Mackage fashion show at WMCFW, Spring 2016 was a teal leather jacket. Because the colour is so vibrant and memorable, I would suggest purchasing a coloured leather jacket from a more affordable store like Zara or H&M and not investing too much money into it. Currently, on sale at Zara is a faux leather jacket in sky blue or bright yellow for $69 which can be easily worked into your wardrobe.  
In fact, you can purchase all the items featured in this article at Zara.com.
RELATED: Are You Spring/Summer Shoe Ready?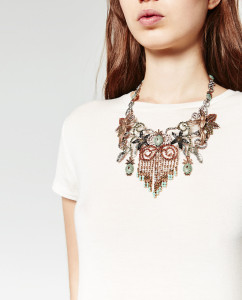 The easiest and most inexpensive way to add colour to your look is with jewellery. If you're wearing a plain dress, a coloured statement necklace can add colour and drama to your outfit. My personal favourite store to buy affordable jewellery is Aldo Accessories. You'll be able to find necklaces for under $30 as well as bracelets, sunglasses and even clutches.  Since you're at Aldo, you may consider looking at their shoe department as well! Shoes are such a great way to add colour to an outfit and if you purchase comfortable ones, you know you'll be wearing them again and again. And remember, shoes don't need to be a solid colour to add colour to a look, wearing a shoe with a print or pattern on them can add a lot of style too.  
RELATED: 5 Bathing Suits To Rock This Summer
When purchasing a new handbag, most women consider the three questions:
Is this bag functional for my lifestyle?

What outfits can I wear with this?

What season can it be worn in?
In more cases than not, women gravitate towards a black handbag; the simple reason being that it will match with all their existing clothes throughout the year. I would suggest purchasing a handbag or clutch in a colour to be worn in spring, summer and fall, depending on the colour. The runways showed handbags in vivid colours. From Stella McCartney to Chloe, bright red handbags are a big trend this year. Although it might be extreme for some people to wear, red can be worn throughout the year, and can be easily added to your wardrobe with jeans and a sweater.  The colour is so vibrant and makes a statement with a simple outfit.
Happy Shopping!