Do you want a tropical get-away but work has you stuck at home? Why not arrange a Caribbean style wine and dine in the comfort of your own home, and convenient to your taste buds? Try making a delicious Jamaican Curry Chicken, sweet and crisp Festivals, and perfectly fried Plantain any night of the week. Although most of the ingredients can be found at your local grocery store, try visiting a Caribbean food market near you. There, you will find a variety of produce that you may have never seen before. Walk through the aisles and take your time to observe the different products/produce and enjoy the experience. You may also want to pick up a few cans of coconut water for the added tropical experience.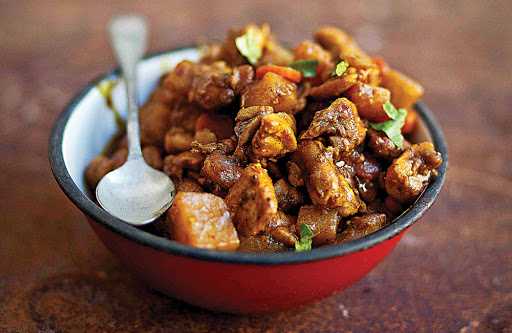 Jamaican Curry Chicken
Ingredients:
1 4lbs chicken chopped in small pieces
2 Tbsp White Vinegar (for washing chicken)
3 tsp Salt
3/4 tsp Black Pepper
6 tbsp Curry Powder
4 cloves Garlic (finely chopped)
1/4 Small Red Bell Pepper (chopped)
1/4 Small Green Bell Pepper (chopped)
1 Large Cooking Onion (chopped)
2 Tbsp Cooking Oil
1 tsp Dried Thyme or 1 sprig Fresh Thyme
1 Tbsp West Indian Hot Sauce (optional)
3 cups Water
2 Medium Potatoes, cut in 6 pieces each
Instructions:
Wash chicken: Cut into serving pieces. Pour white vinegar over chicken, wash in cold water, and drain well
Season chicken with 2tsp salt, black pepper, 3 Tbsp of curry powder and garlic. Let chicken sit for 1 hour in fridge (not necessary) to absorb spices.
Add cooking oil to saucepan and heat on high, add onion, green and red bell peppers, thyme, pepper sauce, curry powder,  and salt and sautée for 2-3 mins.
Add 1 cup of hot water and heat until boiling.
Add the chicken with spices.
Add 1 1/2 cups of boiling water (if necessary), then cover and bring to a rolling boil.
Reduce heat to medium, add potatoes and add 1/2 cup water (if water is drying out), cover and simmer until chicken is tender and sauce thickens (about 1/2 hour).
Taste and adjust with salt, if needed.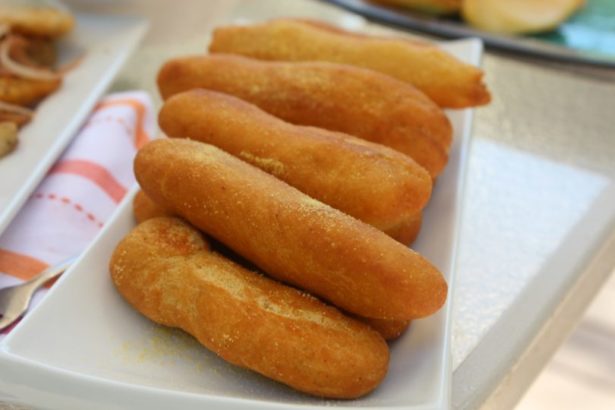 Caribbean Style Festival
Ingredients:
Instructions:
Pour the mix into a large bowl and add just enough water to make a stiff dough.
Knead the dough on a lightly floured surface.
Divide the dough into portions. Roll each portion into a small cigar or sausage shape that's somewhat tapered at the ends.
Pour enough oil into a skillet to reach about 1 inch deep.
Heat the oil over medium-high heat until shimmering but not smoking.
Carefully slide a few of the dumplings into the oil and fry, turning as necessary, until golden brown on each side, adjusting the heat if necessary.
Transfer to paper towels to drain. Repeat with the remaining dough portions.
Best served hot.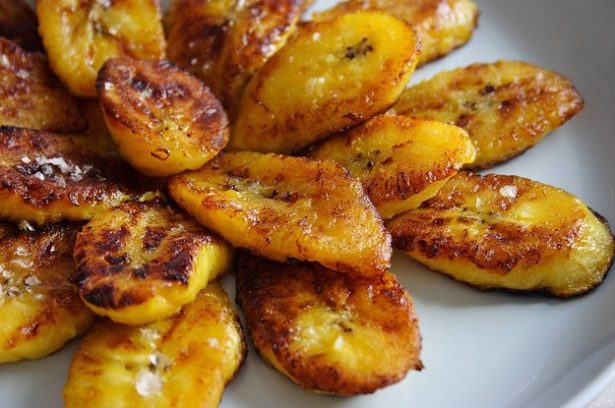 Caribbean Style Plantain
Ingredients:
Plantains (The skin should be mottled with yellow & black)
Dash of salt
Cooking Oil
Instructions:
Cut off the ends of the plantains.
Remove the skin by running a knife down the middle and peeling back the skin.
Dice the plantains at a diagonal.
Place in a bowl and sprinkle on the salt.
Pour enough oil into a large skillet to just cover the plantain.
Heat oil on a medium-high heat.
When the oil is really hot, place the plantain in the oil in a single layer
Let them cook for 2-3 minutes on each side until golden brown. Reduce the heat if they are cooking too fast or starting to burn.
When done, drain on paper towels
RELATED: Comfort Foods
Getting away doesn't require lots of money or travelling far away from home and work. Make a trip to your local grocery store/Caribbean market and pick up the ingredients you'll need for a Caribbean style experience. Once you've made your meal following the instructions above, turn on the soca music for the full effect, dress for the occasion, and begin to indulge in your very own tropical Caribbean Style meal at home. This can be done solo or with company.
Enjoy a flavourful evening and let me know below how it went.