Are you bored of dinner and movies? This August, take advantage of the last few weeks of summer with these unique events happening in Toronto this weekend!

The Canadian National Exhibition is an annual summer carnival consisting of food, rides, games and booths. Your and your special someone can check out the variety of wacky food concoctions, like giant burger with maple bacon, peameal bacon, cheddar, onion rings, and more, all on an edible gold bun (sells for $100). You can also get just about anything fried, pickle ice cream and chocolate banana steaklaires, to name a few. Come hungry and ready to eat!
Once you've gorged yourself silly, why not channel your inner competitor and head to the Gaming Garage? Here, visitors can play and watch CNE sports, Card Gaming and Pinball Tournaments. You can also meet video game developers and play board games while you digest your carnival feast.
If you are looking for something truly spectacular, get tickets to the Canadian International Air Show, available on Saturdays, Sundays and Mondays. Tickets range from $104.00 (limited time sale price) to watch the show with food and refreshments, to $3499.00 if you want a seat in the plane.
The CNE runs Friday, August 18th to September 4th. Tickets are on sale now for $19.99 per person at the gate or online.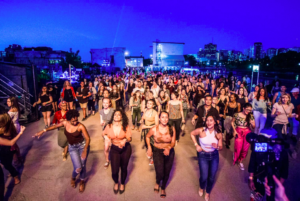 In the wise words of Kenny Loggins, 'kick off the Sunday shoes'! Check out the outdoor Latin Sparks Party where there will be food, drink and the sauciest of all dancing. Bring your best moves to impress your date as you break a sweat together. There will be multiple DJs, live performances by musicians and dancers, food trucks and free dance lessons. The festival is Latin-inspired but also includes various types of music for everyone to enjoy. Be sure to check out the outdoor bars for a quick hydration break, or to loosen up your joints even more.
The Latin Sparks Block Party kicks off on Saturday, August 18th from 9pm-2am at 2222 Cherry Street. All ages are welcome to dance in the open air for $29.99 per person. Hurry, before tickets sell out!
RELATED: Best Swimsuits of Summer 2018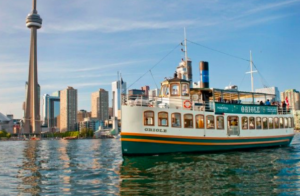 Who doesn't love a relaxing night on the water, surrounded by romantic lights, drinks and music? Check out the Summer Sizzle Cruise, hosted by Mariposa Cruises. Stare in awe at the gorgeous Toronto skyline – and your glowing date – as the sun sets to live music by Guilty Pleasures. Pick up some summer cocktails and check out the food stations and appetizers provided by executive chef Andrew Capone (formerly from The Drake Hotel, Thuet and The Harbord Room). Treat your sweetheart to an intimate and romantic evening where your spark will dance in the moonlight.  
The Summer Sizzle Cruise will leave shore on Tuesday, Aug. 21st. Boarding is from 6:30-7pm, and the boat will return at 9:30pm. Tickets are $32.95 plus tax for adults ages 19+. Note that all cruise boats are subject to change until the cruise date, so be sure to confirm the day of!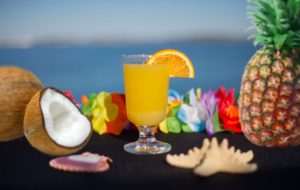 On the topic of cruises…
Didn't get to go on vacation this year? Take a stay-cation with Mariposa Cruises' Hawaiian Luau Cruise. With Hawaiian-inspired food, accessories and the breathtaking Toronto skyline, hula your way into your date's heart. There will be a DJ, Hawaiian cocktails, and live hula performances.
This cruise will commence on August 30th from 7-10pm. Boarding is from 6:30-7pm so don't be late! Tickets are on sale now for $85.95 plus tax. All participants must be ages 19+.