Dreams of becoming a Disney princess can come true, at least for Halle Bailey. The singer/ actress will appear in 'Disney's live-action remake The Little Mermaid as Ariel. Halle is half of the RnB duo Halle and Chloe signed by Beyonce's label Parkwood entertainment. She also plays one of the leading roles in the hit tv show Grown-ish.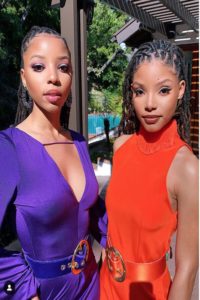 Halle announced the news over social media on Wednesday. The 19-year-old star took to Instagram with a caption that read "dreams come true.." alongside an animated picture of Ariel.
Fans and celebrities alike took to social media expressing their excitement over Halle feature as the second black Disney princess, a role traditionally played by  white woman. Hollywood stars from  Meagan good to Ayesha Curry commented on her post congratulating the young singer/ actress.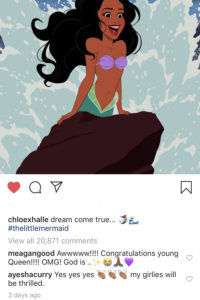 Director Rob Marshall also commented on why he chose Halle for the Role. "after an extensive search, I was abundantly clear that Halle possesses that rare combination of spirit, heart, youth, innocence and substance – plus a glorious singing voice – all intrinsic qualities necessary to play this iconic role."
However, the casting did stir some controversy over social media around the casting the young actress. This controversy began as people noted that Danish writer described Ariel as having "skin as clear and delicate as a rose – leaf and eyes as blue as the deepest sea" in 1837.
Despite the controversy over casting  Halle Bailey, both fans and celebrities praised Disney for its efforts towards diversity. Singer Jordan Sparkes shared her enthusiasm by commenting, "OMG I AM SO HAPPY FOR YOU! And for all the little brown girls who will now see themselves as Ariel too!."
The film will feature legendary songs composed by Alan Menken and Howard Ashman. Although there 'isn't an official release date, production is set to commence in early 2020.