Spring is 18 days away and it's time to start thinking about coming out of the darkness and into the bright! 2012 Spring trends are a mix of styles and colours. Welcome Spring with these five trends: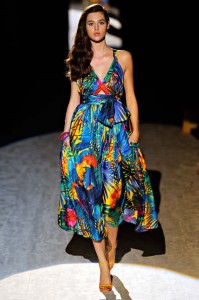 Floral
Flowers are in bloom everywhere; floral jeans, dresses, blouses, pumps, and jewellery.  This feminine and fresh trend has big floral prints in sorbet shades and bright hues. Feeling shy? Add floral to accessories with bangles or a floral-printed bag.
BOLD Prints
Besides oversize floral, busy futuristic prints and mirror-like geometric shapes are a way to grab attention. The key to not looking like you closed your eyes while you got dressed is to choose one printed item. Pair this trend with a minimalist approach. Less is more.
Colour Blocking
This season colour is bright and muted shades of orange, purple, blue, red, and lilac. For the understated are shades of beige and champagne. The colour blocking trend is bold and encourages you to bring colours together but best to keep it to a maximum of three.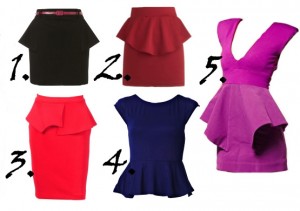 Peplum Skirts and Dresses
The shape has a short flared ruffle that sits at the waist so this trend works best for women who have very narrow hips and need to add some volume around the middle.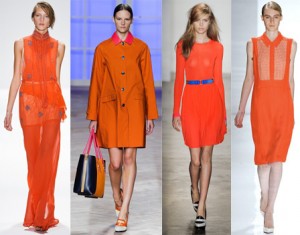 Tangerine Tango
The Pantone institute predicted tangerine to be the most popular shade of the season. The colour is sophisticated and dramatic and after a dreary winter it's time to emanate heat and energy. I caution you to pick the right hue for your skin tone and not make the mistake of looking like a tangerine. Don't be afraid to put away your black winter wardrobe and add some colour to your life.