It's hard to believe that the holidays have arrived. Whether you've been partying hard or relaxing by the fireplace, chances are your holiday season has involved lots of food and lots of alcohol. Many people ask for my help this time of year because they are feeling anxious about overeating, their weight, or their lack of willpower.
Did you know that the average person packs on an extra 7-10 pounds between Thanksgiving and Christmas?
I understand how difficult it can be when you realize all those extra calories from holiday dinners went straight to your mid-section. Many people bust their butt all year trying to live a healthy lifestyle, then easily give in to temptations during the Christmas season. As a result, most people are unhappy with their weight come January.
So, I've decided to offer some advice to those of you who can't resist holiday temptations. I know it's easy to feel bad about yourself after the holiday season is over as you start to add up all the glasses of wine, gingerbread cookies, and untold casseroles you've consumed. It's not just the formal meals you have to worry about, but also the leftovers that you've likely brought home.
Here's what I suggest:
1) Don't beat yourself up. So what if you ate or drank too much over the holidays? Most people do and it's really not the end of the world. Today is another opportunity to start anew and get where you want to be. Rehashing the decisions of the past will do no good, but embracing the best thoughts will give you a more positive outlook. Take the greatest memories of your holiday season and use them as fuel to achieve your health goals in the New Year. Remember that stress will increase cortisol levels and this stress hormone is definitely not your friend if you're trying to lose weight.
2) If you have a stash of holiday leftovers, just throw it out or pass it on to somebody else. Don't feel bad about this. If you, like me, grew up with your mother telling you to eat all your food because children are starving in other countries, then this will be difficult. But eating this food may take you away from achieving your health goals, especially if you're forcing it down after you're already full.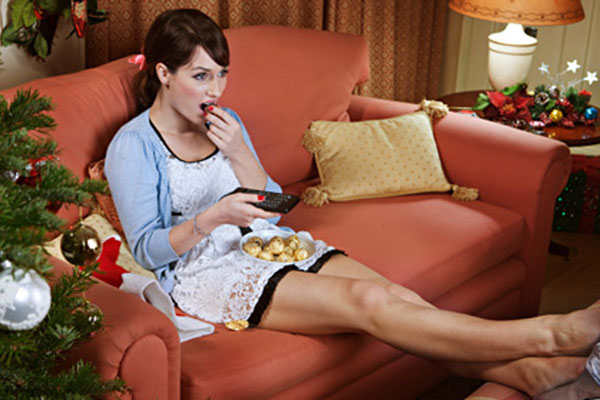 3) If you feel that you are very far away from your original goals, change them until you get on track. For instance, if your goal was to weigh 10 pounds less by New Year's Day and that clearly isn't going to happen, change your goal. It's not worth starving yourself, which will seriously harm your metabolism and only serve to make you pile on the pounds because your body may think that it's in a crisis situation.
4) Start introducing healthy whole foods back into your day. Have protein smoothies for breakfast, salads for lunch, and steamed veggies with protein for dinner. You can also substitute fresh fruit and nut snacks in place of old leftover breads. It's a good idea to clear your cupboards and replace holiday goodies with natural foods.
5) You could start a fun, new exercise program like hip-hop dancing or get back into your regular workout routine. Think of exercise as something you enjoy doing instead of punishing yourself for going overboard during the holidays. If you feel totally lost and aren't sure where to begin, now may be a good time to invest in a personal trainer.
6) Another popular way to kickstart your goals in the New Year is a gentle cleanse program like the LIT KIT detox, which can have you back in your pre-holiday clothes in no time. I don't recommend liquid detox programs that involve merely drinking lemon water with laxative teas. It's winter and your body needs nutrients from food to stay warm. Not to mention, your immune system will suffer if you aren't receiving the right vitamins. A good cleanse supplies your body with adequate nutrients, superfoods, along with key immune boosting vitamins and minerals.
There are many healthy ways to take steps back toward your regular healthy routine. Just remember, the worst thing you can do is feel guilty. You don't deserve that kind of negative energy. So think positive, and find fun ways to get back to your normal or the better version of you.
Want to read more about holiday eating? Click here