This week, Eligible Magazine has heart-stopping fashion trends hot off the runway! Must have's for the Fall season include: dark floral prints, fringes, sheer, mismatched outfits, pantsuits and the most vivaciously extravagant color: purple. Forget your brown palette this season, and opt for purple in a darker floral fabric.
Dark Floral Dresses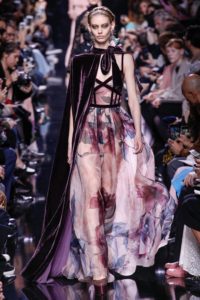 Summer is the perfect time for prissy pink and peachy floral designs. We are smiling from cheek to cheek when wearing these bright fabrics all summer long. But low and behold, when September comes around, away they go into our closet. We wish deep down to be able to prance around in them a bit longer. Should we be conditioned to put these away in the fall and forget about them? No way! Even though the bright, hot, scorching sun is gone; and we might think to ourselves "it's time for ma boots". Floral is in, so wait! Make some room in your vestiary for a little something-something; buy yourself a dark, moody floral printed skirt and pair with a dark, fitted sweater for a hint of danger and maybe a dash of Victorian Goth; slide on some high grey boots and you're ready to go!
RELATED: How To Be Fall Chic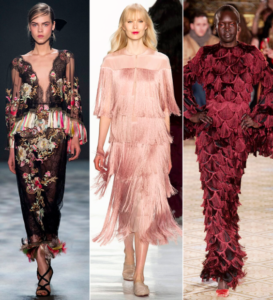 Fringes, Fringes, Fringes!
Fringes make me want to cry. They adorn any outfit so well it hurts my eyes, it's no coincidence that the free-flowing, Charleston dress (named after the popular dance) became the evening look of choice during the Fitzgerald era. As the American woman gained their right to vote, they shed their structured clothing of the 19th century and opted to embrace a style that would shimmy along with them. You must add a fringed dress to your repertoire this season; it's a must have for the Fall!
RELATED: The Perfect Fall Foods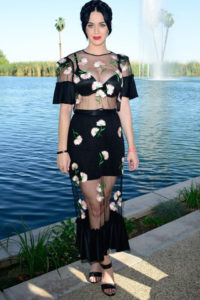 Sheer 
Sheer clothing is definitely a trend we can get onboard with. The look of thin, ethereal fabric flowing on our skin is appealing. It's a great opportunity to show off your cute lacey bra and pair with just about anything; although a  great pair of frayed ankle skinny jeans and a stiletto bootie works. If you're not into bra showing you can always wear a fitted tank top underneath and tuck into a body-hugging black leather skirt with bright red heels.
Gotta go, everyone, it's time to shop!