Is Jelena on a break?
Personally, I don't think so. Why? Well, from the beginning they have been stressed about making their relationship public because the media really did a number on their relationship last time. They have not gone Instagram official but on March 1st, Selena did post a picture of her holding a Polaroid of Justin Bieber with the caption, "March 1, 1994, someone I know that happens to be super cool was born. Boom.".
Shortly afterwards there were rumours that the two were not getting along and that they were on a break but still contacting each other every day. Hmmm, does not sound like a break to me. An insider also said they attended the same church service as usual but sat at different sides of the church. Both were seen in great and happy spirits. While Justin Bieber's Instagram has shown him happy and embracing the goodness of life.
RELATED: 5 Spring Shoe Trends You Need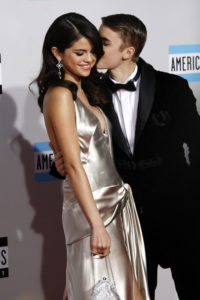 If anyone remembers their previous breakups it was nothing as calm and easy as that. We see stories about Jelena weekly so they obviously know that since the fall when they got together they have been under a public microscope. Even on Valentine's Day, it was said that they were not spending the day together because both of them were nowhere to be found. Later we find out they were having a romantic dinner together in the late evening and spent the night travelling to each other… How romantic.
Is this "break" just a rumour started by Justin and Selena themselves? Probably. Their relationship is better without so much stress from media speculation and I'm sure they would like to have only themselves involved in their relationship, which is hard when millions of people are watching their every move.
I am forever a Jelena fan. So c'mon, they are together we just have to give them a break and let them do their thing.