Every girl has a make-up bag or bin that is overflowing with products, tiny products trials, dried out mascaras, and expired lipstick. Usually, us girls like to hold onto things in case we go to a special event or end up needing that blush palette we never use. It's important for us girls to feel prepared but it's also just as important to make sure you stay trendy without crowding your space up with unnecessary clutter.
Step 1: Toss it!
If you haven't touched it in 6 months, has expired, or it's broken say goodbye. You don't need your old dried out mascara tubes, your broken pressed powder, or that eyeshadow you used for Halloween… Four years ago. Throw it out. Trust me just throw it out because it'll feel so good when you free yourself from useless things. Getting rid of this stuff right off the bat will make it feel easy.
Step 2: Lipstick Binge
It is common when us girls find a shade of lipstick we like we buy seven multiple versions of it… I know I'm guilty. So try this to narrow down your options and make some room in your makeup bag. Sort your lipsticks into groups of like-colors and then pick your favorite one. If trying them on helps rather than just looking at them, do it. This will help you get rid of the lipsticks that you bought on impulse and gives you room to try more colors in the future.
Step 3: Aim For Multi-Use Products
Having a product that does more than one function is a money and space saver. This goes for lip shimmer balms that can act as a blush or lip liners that can act as eyeliner. This can even be using a darker highlight color as a sparkly shadow to add a pop to your daily look. Having some multi-purpose products will not only increase space in your kit but also make your daily routine much quicker.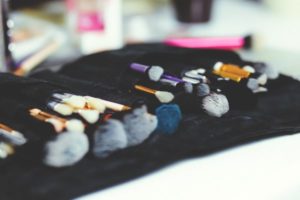 Step 4: Clean Your Makeup Brushes
This step is important to have a properly cleaned bag but also should be done on a weekly bases for a part of your skincare routine. Having dirty brushes makes applying for makeup pointless and more work. This is because with the bristles being clogged up with the product it can take away the functionality of the brush as well as causes more breakouts on your skin. Getting into this routine will be beneficial to you and your clean bag. Try using a gentle dish soap and a little bit of olive oil as a mixture, rinse under warm water then hang upside down to dry.
Step 5: Clean Your Actual Bag
Many people will do a clean out of their makeup and wipe down each product only for them to be quickly dirty again. Do not forget to clean your actual makeup bag. Flip it inside out (if possible) to shake out any make-up bits that are loose inside. Then take a makeup wipe and rub it all over the inside of the bag to wipe off anything that could have been spilled inside. Let it dry for a couple of minutes then place the makeup you chose not to purge back inside.